Shoot for the Moon: A Successful June for Brunswick Forest Sales
July 6, 2020
ISWebmaster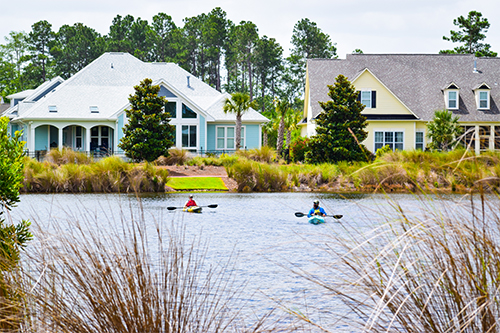 Summer at Brunswick Forest has truly been heating up in more ways than one! The month of June has been a moment of exceptional success for the real estate team, brokers and all of the new residents that have been welcomed into the Brunswick Forest family! It has truly been a time of excitement, as it marks the success of the recent Coastal Showcase Weekends. Here is a quick recap of the numbers recorded during this past month.
Southeastern North Carolina has become one of the most desirable communities in the past decade, due to its blend of Southern charm, location, and development. For Brunswick Forest residents, there's close proximity to downtown Wilmington, seven major beaches, championship golf and the Villages at Brunswick Forest Town Center to take advantage of. That does not even begin to cover the 10 luxury amenities perfect for an active lifestyle. It is no wonder that so many new faces have decided to stop by and see what the buzz is all about.
Recently, Brunswick Forest has taken a new approach for their traditional sales event weekends. Interested home buyers are visiting for a shorter weekend to tour a variety of quality homes for sale, as well as get to know the layout of the neighborhoods around them. They also involve a set amount of fun activities to give you a taste of the local lifestyle. The Coastal Showcase Weekends have been quite successful, with the weekend in June recording no less than 29 sales! That is a lot of new residents to be excited about!
Overall, 46 new families have been welcomed to Brunswick Forest this month. Many of these new homeowners found their way to Brunswick Forest through outside realtors, walk-in tours, Coastal Discovery Tours and of course the recent Showcase Weekends. All of them ended up making purchases using one of Brunswick Forest's three ways to buy. This includes move-in ready homes, homesite purchasing and land/home packages. Over 10 neighborhoods were featured to visiting guests; all of which will welcome new homeowners. These include Banyan Bay, Cape Fear National, Shelmore, The Lakes, Park West, Egret Cove and Spring Branch! Brunswick Forest is also very proud of their amazing building partners who have made sales during this period, such as Legacy Homes by Bill Clark, True Homes, Kent Homes, Logan Homes, Mungo Homes and Fogleman & Associates. Broker friends from outside agencies have also contributed greatly to this achievement, bringing in 22 of the new families.
This incredible trend to begin the Summer season, and the Brunswick Forest team cannot wait for you to be a part of it! There will be more Coastal Showcase weekends in July, August, and September. If you want to be part of the fun, learn more by contacting the team at: 855.983.9579, and start asking yourself if you're Coastal By Nature®!