Living on the Cape Fear Coast is a Hole-in-One: Cape Fear National at Brunswick Forest
March 9, 2020
ISWebmaster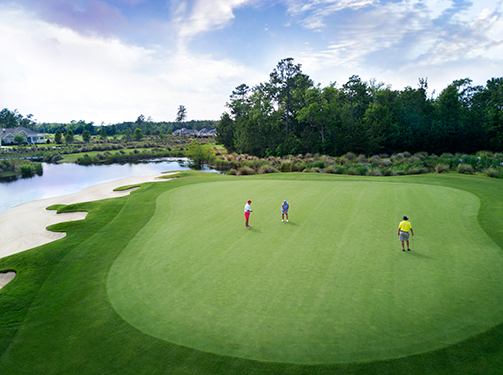 Pristine nature and water views, rolling hills, convenient amenity access, gorgeous luxury homes and at the center of it all is a championship golf course that's renowned. Enter the neighborhood of Cape Fear National here at Brunswick Forest, where master-planned living comes alive in a spectacular way! It's no wonder why Cape Fear National is seen by many as one of the fairest places to live in the Southeast.
Imagine having the opportunity to live in a neighborhood that overlooks an 18-hole golf course designed by world-renowned designer, Tim Cate. Take a minute to think of what your coastal lifestyle could be like waking up in an area that's surrounded by water and woods, making your home feel like its own paradise within another paradise. Cape Fear National makes this concept a tangible achievement by offering great homes in a superb area. This is the wonderful reality that residents living inside Cape Fear National get to thrive on every single day. Best of all, you get the feeling of living in an exclusive setting, while still getting easy access to the same amenities that all Brunswick Forest residents get to enjoy!
Cape Fear National has access to some of Brunswick Forest's most exceptional properties of all. Homes are available for touring, and you shouldn't delay in getting a chance to see the beauty in person for yourself. Some of the floor plans that are featured come from our building partners at Kent Homes, Legacy Homes by Bill Clark, Liberty Homes and Logan Homes. Golf lovers and prospective home owners alike will love the versatility and personalization offered in the homes at Cape Fear National. In addition to these well-equipped homes, there's the bonus of having tons of green space and natural vegetation to enjoy. Water formations and natural views of the surrounding area adorn the homesites being offered here, with properties starting at $130k. Looking for some variety in your homebuying experience? Homeowners can look forward to a selection of home packages ranging from the high $400k – $800k range. New properties have been added to the neighborhood, so there's even more variety for you to choose from.
When it comes to making you feel like you've arrived home with your neighborhood choice, consider looking at the properties that Cape Fear National has to offer. Try taking a tour of the neighborhood and see everything for yourself via Brunswick Forest's Coastal Discovery Tour. If you're interested in seeing the best that our community has to offer, or wish to look at some floor plans for Cape Fear National, don't hesitate to give our super helpful team a call at: 855.983.9579