Coastal Living with a View: Spring Branch at Shelmore
May 6, 2020
ISWebmaster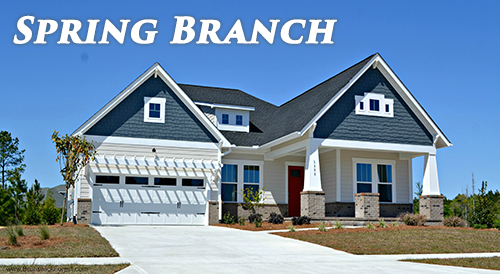 Brunswick Forest is full of amazing floor plans provided by 11 reputable builders. We also have a multitude of neighborhoods in which the styles of homes vary. Each model provides several great features that entice aspiring homeowners to call Brunswick Forest home. Spring Branch of Shelmore, this month's neighborhood highlight, offers a prominent coastal aesthetic and retains some of the best natural views around.
Coastal cottages have become a very likeable style in home architecture, especially in the surrounding Wilmington area. There is an unmistakable charm to it all, but each floor plan still provides you with an abundant amount of space to live. Looking for some more rustic styling cues? Spring Branch has you covered. Want more energy efficiency out of your home? That is but another quality that Spring Branch homes offer. The feel is cozy for many of the homes here, but the interior is stylish and modern with plenty of room. Stacked stone exteriors are a common sight, as well as rear-access alleyways. These homes are sturdy against the elements, have plenty of interior features, and start pricing in the $400s; Home sites start in the $80s.
A big highlight of the Spring Branch neighborhood is energy saving efficiency. Many of the homes featured here are built using "green" methods of building; modern practices that not only make your home more cost efficient, but easier on the environment. This is important, considering the abundance of nature that Brunswick Forest is nestled in. Just like the rest of Shelmore, nature is interwoven into Spring Branch itself. This neighborhood will delight you with plenty of pocket-parks and access to amenity lakes. Hammock Lake, one of the largest water features, is located right next to Spring Branch. All these natural areas provide you with plenty of space, perfect for outdoor activities like bike riding, walking the dog or kayaking.
If you are looking to enjoy Southern front porch living at its best, Spring Branch is the neighborhood to keep in mind. Whether it is a personal tour or a virtual walkthrough of some of the models available, Spring Branch is a people pleaser through and through. Contact the Brunswick Forest team at 855.983.9579. You can also choose to browse model homes digitally via Brunswick Forest's Spring Homes Showcase or their YouTube Homes To Tour playlist.