We realize the need for up-to-date technology.  That's why Brunswick Forest partnered with FOCUS Broadband's fiber optic network to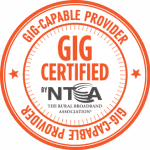 provide the most advanced voice, video, data and security services through one amazing connection. Whether it's blazing fast Internet speeds of up to 1 Gigabit, Streamed TV Service, or any number of new applications on the horizon, the connection FOCUS provides is powerful enough to meet the demands of tomorrow.
As a Certified Gig-Capable Provider, FOCUS Broadband by ATMC is recognized as a community-based telecom that has built a communications network capable of delivering Internet speeds of up to 1 gigabit per second.