Timeless Style and Coastal Charm: The Neighborhood of Egret Cove
February 3, 2020
ISWebmaster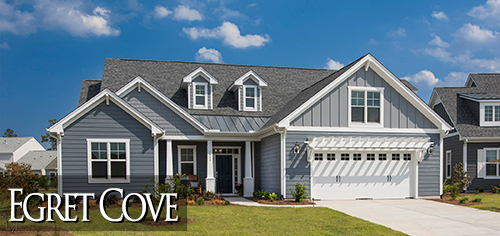 Life down on the Carolina coast near Wilmington, North Carolina has a special identity. Whether you're taking in all the history, enjoying the nearby beaches or just spending time relaxing with family and friends, you can't deny that the greater Wilmington area has boundless Southern charm. For those looking to make a home for themselves, while still capturing the warmth of a classic coastal cottage, Brunswick Forest has just the neighborhood for you!
Egret Cove is one of the latest additions to the master-planned community here at Brunswick Forest, having started in the beginning half of 2019. This neighborhood brings all the comforts of the classic cottage architecture within reach for aspiring homeowners, while keeping all the modern elements that are expected of today's building standards. The homes offered at Egret Cove are constructed by three of our 12 building partners; Logan Homes, Kent Homes and Legacy Homes by Bill Clark; all of which, offer superb quality for homeowners looking to live in Brunswick Forest. You can look forward to iconic features such as front porches, gourmet kitchens, spacious master suites and boundless community areas.
If there's one thing that the neighborhood of Egret Cove has in spades, it's personality. These homes have a habit of making potential homeowners fall in love with all that they offer. Homes here start in the high $300s and homesites starting in the $80's, offering fantastic value and plenty of ways to adapt to the lifestyle you're looking to experience.
Most beneficial of all isn't just the versatility, or excellent build quality you get at Egret Cove, but the low-maintenance landscaping. You never have to worry about upkeep on your lawn or flower beds, because it's all included as part of the package! You can leave the manicuring of your property to knowledgeable professionals, while you focus on enjoying all the amenities our community has to offer.
If you're looking for a commendable amount of space, great quality with incredible furnishings that can be customized to your preferences, then you will not want to miss the opportunity to tour the homes at Egret Cove. Looking to visit our community and see these homes for yourself? Contact our real estate team and get set up with your own tour of the neighborhood! Or, ask about how you can get started on your coastal lifestyle with our Coastal Discovery Tour. Either way, you'll be glad to call Egret Cove home. Call us at: 855.983.9579