Welcome to Cape Fear National®
Welcome to Cape Fear National, one of Wilmington's most celebrated golf courses and the centerpiece of the Brunswick Forest community. Cape Fear National is an award-winning championship course with 18 holes of premium public access golf in a setting of unmatched natural beauty. Brunswick Forest residents enjoy this outstanding course right in their community, yet they are not required to pay dues or maintenance fees for the course.
Live where you play.  Click HERE for real estate information.

Uniquely Designed To Dazzle The Eye
With Cape Fear National, renowned golf course architect Tim Cate has designed a playing field as dramatic as the landscape itself. His signature feature – prominent bunkers that run the entire length of the hole – can be experienced on holes 5, 13 and 16. The course winds through heavily undulating land and features several bridges through wetlands, three waterfalls, and beach bunkers, all flanked by native Southeastern North Carolina grasses and wildflowers.
From the bag drop until the last drop at the 19th hole, our sole focus is on an exceptional end-to-end golf experience. Touchscreen GPS golf carts provide precise yardage for each shot, speed pace of play, order food at the turn and can even contact our staff. Our course conditions and commitment to service are unmatched outside of private country clubs – allowing you to enjoy golf as it should be.
Experience It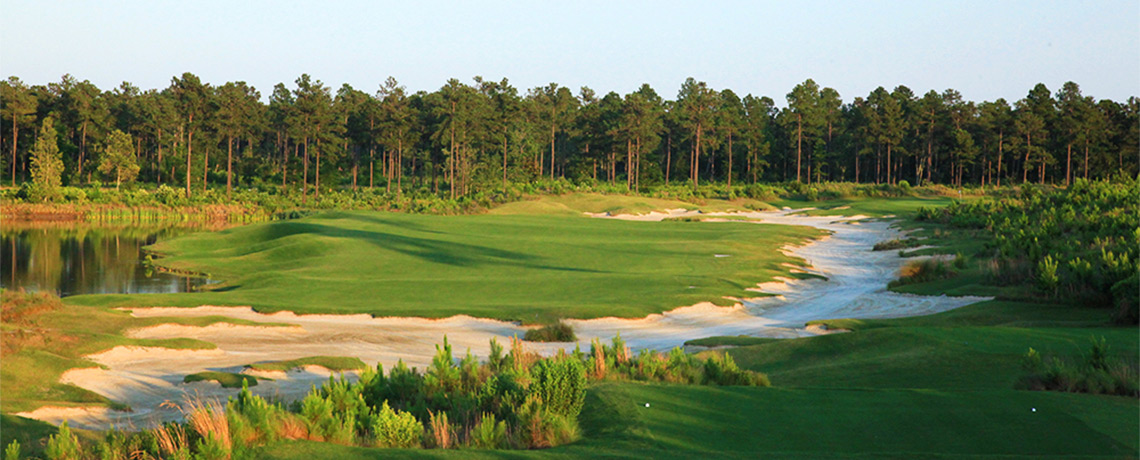 As part of the Brunswick Forest community in Leland, Cape Fear National is just six miles south of historic downtown Wilmington and 45 minutes north of the golf mecca of Myrtle Beach, SC. Players find it an ideal stop along Highway 17 as they make their way to and from Myrtle Beach.
Tee reservations may be made up to 14 days in advance for Cape Fear National members and up to seven days in advance for other players.
Additional Amenities
Players often choose to dine at The Forest Restaurant in the Cape Fear National clubhouse after their round. This 7,000-square-foot facility offers a full menu as well as a handsome bar, and it's adjacent event lawn is the ideal setting for any corporate event or company outing. Call for hours of operation: 910-202-5810  
Click HERE to view the current menu.
Cape Fear National offers a variety of practice facilities to refine any game. Warm up before, or work on something after, your round on the all grass tees driving range with target greens. There is also an expansive putting green as well as a full short game area with a practice bunker and approach area.
Course Designer
Cape Fear National Golf Course Architect, Tim Cate
Tim Cate is a renowned and revered golf course architect, registered landscape architect, and land planner based in Sunset Beach, North Carolina. With more than 23 years of experience designing and building golf courses, he has always been associated with projects with high standards of quality and layout.
Through total dedication and attention to detail, his golf courses, including Cape Fear National, are recognized as places in which to truly appreciate the game. Tim has garnered some highly prestigious awards, including Best New Golf Course in both Golf Digest and Golf Magazine and America's Best New Course from Golf Digest.
A Q&A With Tim Cate
What sets Cape Fear National apart from other golf courses in the Wilmington area?
"Detail application, both on the golf course and in the areas that surround the golf course. I started as a landscape architect, which helps me present the golf course and the areas surrounding it in a very sophisticated, upscale manner. Many of the hazard areas are aesthetically pleasing, featuring colorful plants and native grasses.
Can you describe Cape Fear National in a couple of sentences?
"A challenging, visually-stunning golf course designed to use the natural areas encompassing the golf course to enhance the course aesthetics, and the golf course design to enhance the natural areas around the course."
"Cape Fear National is a fun course to play and is aesthetically unmatched in the Wilmington area."
What features are consistent with Tim-Cate-designed golf courses?
"I only work with high-end golf courses. Quality is always of the utmost importance to me and if that is not the number-one priority of the client, I will pass on the project. I pride myself on designing golf courses that provide an aesthetically pleasing, memorable experience to all levels of golfers. "Every shot needs a challenge, visual interest and difficulty level."
Were you given any specific directions regarding the design of Cape Fear National?
"The client gave me simple instructions: "Build us the best golf course in the Wilmington market." Then they provided the resources to accomplish their goal."
Which do you feel is the signature hole on the first eighteen?
"My goal is to make each hole spectacular and memorable. If I were to pick my favorite hole, I would pick hole number 13. It's a par four, dogleg right that plays 400+ yards from the back tees. "There is a giant berm that runs along the far-right side of the entire hole. That berm features native grasses, wax myrtles and wildflowers that really make it stand out. There is a waste bunker that runs between the fairway and the berm until about 60 yards out from the green where it crosses between the fairway and the green. The cypress marsh also frames a couple of the holes on the course. Golf carts travel through the waste area for the majority of this spectacular hole, with a pond running along the length of it."
"However, all of the following holes would be considered contenders for the signature hole designation: five, eight, nine, fifteen, and seventeen."
Awards & Accolades
Cape Fear National opened in 2009, and is known as one of the finest layouts, with the conditions to match, in the Wilmington area and surrounding region.
Among the awards Cape Fear National has won:
Contact Us
We are happy to address any questions or concerns you may have.
Cape Fear National at Brunswick Forest
1281 Cape Fear National Drive
Leland, NC 28451
910.383.3283