Seven Local Beaches: Brunswick Forest Gives More Beach for Your Blanket!
June 10, 2020
ISWebmaster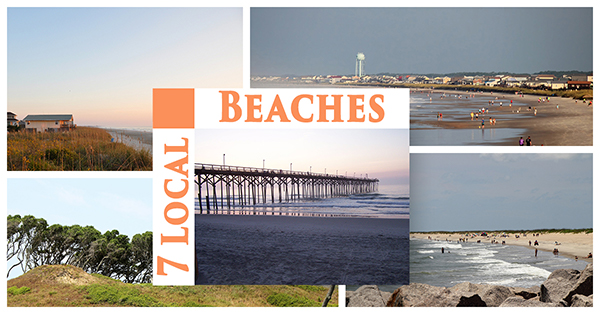 Sun, surf, and sand are three things that make living in Southeastern North Carolina an undeniable blessing. The greater Wilmington area is home to some of the most renowned white sand beaches in the United States. It is a perfect area to enjoy fun in the sun, a splash in the ocean, fishing, boating and other great activities. What is better than having all that summer potential so close to your home?
When you think of the word "paradise," you usually think of a place near the ocean. Listening to the waves roll in against the shore, the sea gulls in the sky and a warm breeze blowing across you face is a great feeling. Brunswick Forest is special because its ideal location puts you at a crossroads between at least seven great beaches to choose from. Each beach has its own unique atmosphere that keeps people coming back time and time again. Beaches are great for activities like cornhole, soccer, kite flying, sandcastle building, running, jogging, dog walking and of course shelling. We have gone ahead and created a list of the top beaches in the area:
Caswell Beach:
Looking for a beach that is a little more out of the way then some of the hotspot areas? Caswell Beach makes for a great reclusive retreat that will make you feel like you have got more beach to yourself than some other locations. Located on a peninsula just outside of Oak Island, it is a perfect place to just get away and immerse yourself in coastal bliss. It is also a dog-friendly beach, so be sure to bring your four-legged friend for a day trip! In a clear day, you might just be able to see the outline of Bald Head Island.
Oak Island:
Noteworthy because of the historic lighthouse that can be found guiding ships to this day, Oak Island is also one of the most rapidly expanding areas in Southeastern North Carolina. But it is also known for its great beach which can be reached via 65 different access points. There is also many boat slips and kayak ramps for people who like to be out on the water.
Wrightsville Beach:
There is a reason why people will make the drive out to Wrightsville Beach, and that is because of its beauty and rich heritage. Tourists often love this spot because its close to many restaurants, shops, and stores, but it is equally beloved by the local population. Famous must-visit areas include Shell Island, the South End and Jonnie Mercer's Fishing Pier. Regardless of what activity you have in mind, Wrightsville Beach has a way to accommodate your desire for summer fun. Be sure to arrive early and pack lots of suntan lotion because Wrightsville Beach can provide you with a whole days' worth of fun.
Carolina Beach:
How about a beach location that really emphasizes the coastal old town charm that the South is known for? Carolina Beach is the destination for those who want something a little more out of the way. Located along miles of gorgeous sand dunes and small roads, Carolina Beach is an oasis for many beach loving residents. In addition to its pristine coastal strands, the Carolina Beach Boardwalk is a summertime favorite to visit. Several eclectic local shops, parlors, and food stands line the boardwalk and make you feel like you have traveled back in time.
Kure Beach:
It might not be the biggest beach out there, but it has lots of heart! Kure Beach is home to historic Fort Fisher, one of the most significant locations from the American Civil War. It is also known for one of the most amazing local aquariums that you will ever see! And of course, it has beautiful shores that will have you feeling like you can stay on your beach towel forever. It is a much older area than some of the other beaches and is also home to North Carolina's oldest fishing pier! Spend a day here to enjoy equal parts of both history and relaxation.
Holden Beach and Ocean Isle Beach:
Nestled closer to the border with South Carolina, both Holden and Ocean Isle Beaches are just a brief drive away from Brunswick Forest. Nice and peaceful even during the spring and summer months, Holden Beach is a sparsely populated town with picturesque shoreline views. There is a fishing pier for those looking to cast a line or two in the water. Ocean Isle Beach is also quite the coastline gem, with peaceful strands of sand bordering lots of lovely resort areas. Both beaches also border the Intracoastal Waterway, so it is home to plenty of boat lovers as well. There is also lots of shopping and dining to partake in when you are not basking in the sun.
Regardless of what beach you choose this summer, have yourself a great time in the sand and surf that our local area is known for! These beaches will be open for lots of fun activities, so get out there and enjoy what makes coastal Carolina so treasured! At Brunswick Forest, the next seaside adventure is only a short hop away.