Brunswick Forest Misses You! Come on Back and See What's New
July 23, 2020
ISWebmaster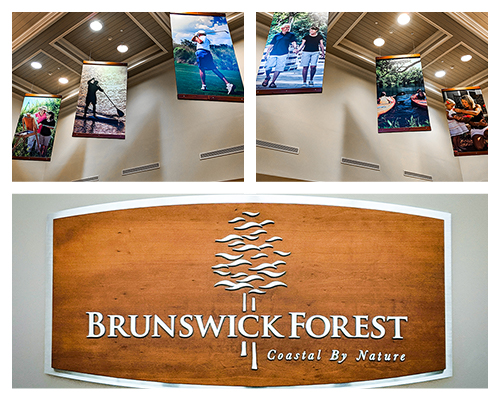 Time never stands still for long! Just like the waters of the Cape Fear River, progress in the Wilmington area continues to flow forward. The town of Leland alone has seen massive growth in a relatively short amount of time. As one of the longest established master planned communities in the Southeast, Brunswick Forest has good reason to have such an established record of quality homes and fine living. It is because the community has grown in both homes and features, with many more on the way. If you have toured Brunswick Forest as a broker in the past, this is the time to come back and discover what is new!
From new neighborhood additions to new medical services in The Villages Town Center, Brunswick Forest is a community in constant motion. You have worked hard in your job as a broker to bring your client's only the best options available in master planned living. Brunswick Forest is here to say: "Come on by and visit us, and we'll handle the rest!" There has been plenty of new developments on the scene, all of which are just waiting to be explored. You never know, your client could decide that Brunswick Forest is exactly where they need to be. Let us go over some of what has been new for 2020:
A New Welcome Center:
The revised welcome center at Brunswick Forest has been updated for 2020 and is now refreshed to document the life of the residents here. There's new crisp imagery hanging up all over the welcome center, with friendly faces at the front desk who are all too ready to help you find your way. The colored photo graphics that adorn the walls, revolving carousels, and ceiling have been updated with a fresh new look that will catch anybody's eye! As a broker you will instantly feel welcomed and at home as soon as you walk into Brunswick Forest.
New Homes and Developing Neighborhoods:
Brunswick Forest is an ever-expanding master planned community that is constantly reinventing how others see Southern Living. There have been several new additions to neighborhoods including, Park West, and The Lakes. In addition, your clients can find some new development going on in the Spring Branch section of the Shelmore neighborhood. Brunswick Forest building partners building new models in these areas include Logan Homes, Liberty Homes, Mungo Homes, and Legacy Homes by Bill Clark. Take a look at some of these new floorplans and start educating yourself on what new elements you can present to your clients for their potential dream home.
New Amenities on the Rise
You might also be interested to know that Brunswick Forest is planning a new amenity soon. Reflections at Brunswick Forest will be another center of relaxation that residents can take advantage of. There will be plenty more information to come, and your clients should stay updated on the latest by keeping an eye on Brunswick Forest's social media pages.
New Additions to The Villages at Brunswick Forest:
Within the past year, Brunswick Forest has welcomed in several new additions to its already massive town center. Cutlar Community Center is one of the latest areas that can be rented out by residents for social events and offers plenty of usable space. Farmhouse Kitchen is one of the newest restaurants in The Villages, offering up eggs, bacon, French toast, burgers and just about any breakfast or lunch item that you can think of. If your client is looking to add more holistic methods to their wellness routine, they will be interested to know Christie Chadwick and CLC Healing Therapies has set up a new location at The Villages as well. Overall, it is even more convenience than before.
Time stands still for no-one, and Brunswick Forest cannot wait to welcome you back for another tour to see what is changed since you last visited. Bring them on by or have them contact the real estate team at: 855.983.9579 to set up their own Coastal Discovery Tour.