New Year, New Look. The Welcome Center at Brunswick Forest.
January 6, 2020
ISWebmaster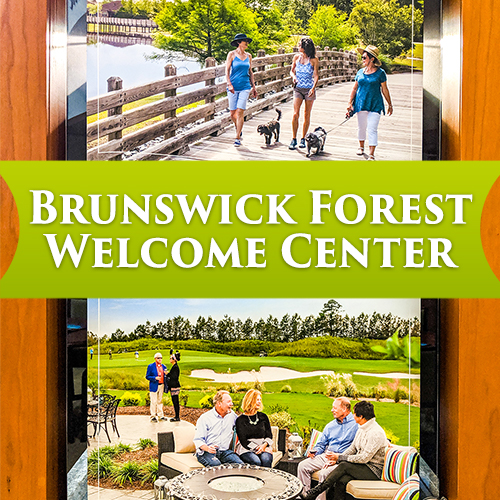 When it comes to welcoming potential homeowners, we place a high emphasis on a good first impression. New homeowners and visitors to our community at Brunswick Forest, often travel here to tour our various amenities and neighborhoods from far away. So, the Brunswick Forest real estate team always do their best to ensure guests feel like family! Part of having a welcoming vibe for your guests, is the environment you present to them! That's why the Welcome Center has recently undergone a refresh, to be even more inviting than before.
Our welcome center, here at Brunswick Forest, is the first stop for visitors looking for a place to call home. When you first step foot inside the revised Welcome Center, you're bound to notice a serene, visual atmosphere. All the colored photo graphics that adorn the walls, revolving carousels, and ceiling have been updated with a fresh new look that will catch anybody's eye! Head of Marketing, Beth Burgee, states "It's all about continuing the story of what Brunswick Forest is all about. The updated designs help illustrate what potential residents must look forward to when they move here. It makes everything feel larger than life and encourage visitors to come and be a part of it!"
Championship golf, swimming, resident testimonials, lifestyle, location and proximity to downtown Wilmington are all a part of our new vibrant display. Visitors can lounge while waiting for a sales agent, read about our natural area and basically just enjoy a visual overture to what life at Brunswick Forest is like for our residents. "We're so excited to see what the new year brings us, and we can't wait to begin adding onto all of our amazing amenities here," Beth adds.
Life here at Brunswick Forest is all about finding your inner peace with a Coastal By Nature® lifestyle.  If you're looking to tour our neighborhoods, and make the pictures in the Welcome Center a reality in your life, contact us with any questions at: 855.983.9579. Or, visit our Coastal Discovery Package to experience the resident lifestyle first hand.