Dream Big and Live Smart the Logan Way: Logan Homes Design Trends for 2020
February 14, 2020
ISWebmaster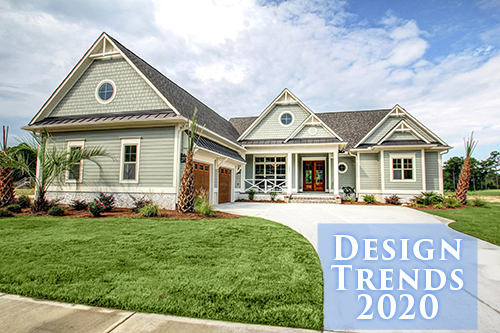 Building new homes isn't just a profession, it's an art that affects the lives of the people that live inside them. Down here in Southeastern North Carolina, homebuilding and home buying have both taken root quite quickly in the last decade. When you step back and think about it however, it's not hard to believe considering how desirable the greater Wilmington area is. Brunswick Forest is a master-planned community that thrives on giving its residents a safe and amenity-rich place to live an active lifestyle. With no less than 12 preferred builders, it's also become a top community for floor plan options and personal choice in building a dream home.
Logan Homes has been building quality homes for years in North and South Carolina. Their work can be seen all over Brunswick Forest, especially in dedicated neighborhoods like Banyan Bay. They have become a great partner in our community, providing aspiring residents with a wide array of standardized options that can be personalized. Marketing manager Julie Andrews of Logan Homes, goes into some detail about how Logan's business model is staying the course for the new year, "Logan Homes is unique because we believe in creating spaces where value, location and lifestyle come together. Our design studio in the Leland area has thousands of options for home buyers to choose from. With almost 80 floor plans ranging in size and style, we offer a lot of options and aim to make the home building process both easy and fun."
Once home buyers finalize what floor plan fits their lifestyle, they are then able to personalize details in the home to their own unique tastes; this ensures that a Logan built home evolves exactly into what the client is looking for. This balance between available pre-determined floor plans and personalization available in their state-of-the-art design studio, ensures that each customer knows what to expect with Logan Homes and are happy with the end result.
Some of the design features that Logan will be engaging in for the new year are pattern tile, making use of second story porches, or lofts, and mudrooms. Each of these features can be seen in the various home models they build. Pattern tile can provide your wall or floor with a little extra pizzazz, showing off a variety of styles that can compliment the room they're in. The patterning process can really make or break a room, which is why Logan Homes offers lots of options so you can find the right fit for your dream home. Logan Homes is currently innovating in the trend mudrooms, giving a clean transition between the outside elements and your home. These landing spaces are designed by Logan to give additional storage and utility without compromising style. Speaking of extra space, what if you could have a second-floor porch to enjoy a relaxing evening on? Logan Homes has realized that extra guest space is always a valuable commodity to offer in homebuilding. Whether you decide to use it as a getaway room or an entertainment room, having an additional porch to modify for your purposes is considered desirable for the new year. Especially if you live in a community like Brunswick Forest, where a second-floor porch can allow you to take in surrounding golf, nature and water views.
Innovation and consistency that stands the test of time is why Logan Homes has become a popular builder in Brunswick Forest. With so many models and neighborhoods displaying their vast array of floor plans, they're a builder you should look at when you visit us on a Coastal Discovery Tour! If you have questions about how a Logan Home could be yours in Brunswick Forest, contact us at: 855.983.9579