Life, Liberty and the Pursuit of Homebuilding: Liberty Homes at Brunswick Forest
March 23, 2020
ISWebmaster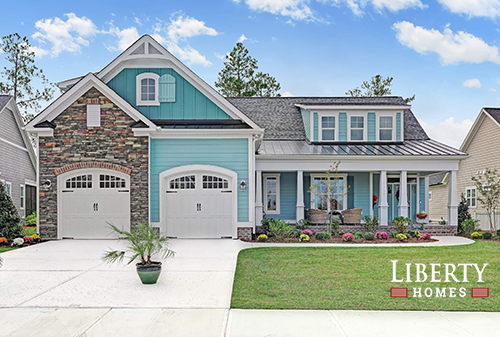 Liberty Homes has been producing quality residences for years, and it's easy to see why they've become a valued building partner at Brunswick Forest; their commitment to vision, value and excellence comes out above others in the industry.
Just like when you first move to Brunswick Forest, Liberty Homes does their best to make you feel like you're a part of their family. Producing and nurturing a bond that runs on trust and transparency means a lot to the Liberty Homes team, because they feel each client deserves to be treated with respect and dignity. What do you get when you choose to build with Liberty Homes? Variety, lots of variety. With up to 18 incredible floor plans to choose from, Liberty Homes has a home to equip you with the best in the business. Furnished kitchens, roomy interiors and comfortable living areas are just some of the hallmarks of a Liberty Home. Liberty Homes has products that are as unique on the exterior as they are on the inside.
The James' and the rest of the Liberty Homes team know that one size does not fit all when it comes to a dream home. It's like a perfectly tailored suit. They'll work tirelessly to find the home that fits your needs perfectly, regardless if you're looking for another den to relax in, a breakfast nook or an extended garage area. If you've got a desire, Liberty Homes will do their best to match it to a home that works. Liberty Homes the credentials to back up their floor plans and products too! They've won the diamond award, one of the highest honors available, in the Brunswick County Parade of Homes. They've also become known as a preferred builder here at Brunswick Forest for their dedication to quality. The team is knowledgeable and friendly to work with and has also been recognized for customer service over the years. It's just one of the many reasons Brunswick Forest is happy to have them building in our happy coastal community. The newest model, the Palmetto II, is currently under construction in the Lakes. Stay tuned for updates, the views are going to be gorgeous!
Overall, the main goal of Liberty Homes is to provide customers with a very personable experience that can not be matched. They know that many of the aspiring homeowners they work with are in the market for something truly special. And they'll go out of their way to ensure the final product is something that you will cherish. Feel that Southeastern North Carolina is exactly the place you want to be? Do you think that Brunswick Forest is the ideal master-planned community for you, and want to know more about our preferred builders like Liberty Homes? Contact our real estate team, at 855.983.9579