Neighborhood Update: Park West and Egret Cove
April 27, 2020
ISWebmaster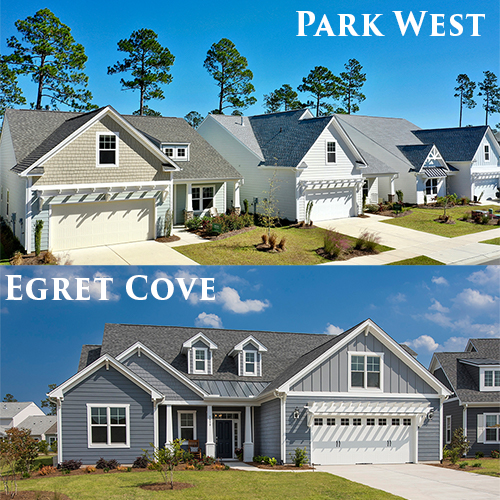 Finding the right neighborhood to live in is kind of like finding the right pair of shoes; you must try a lot of options before you find a nice fit. Having a large pool of choices is part of what the community of Brunswick Forest likes to provide you with. Two of our most rapidly expanding neighborhoods, Park West, and Egret Cove, are two neighborhoods you'll want to visit for yourself.
What makes these two neighborhoods so appealing to aspiring homeowners who are looking to move down South? Three important qualities create a massive appeal for these two neighborhoods; the styles of home offered, affordability and low maintenance. The third point is especially important, because it allows homebuyers to focus on enjoying where they live instead of always focusing on extensive upkeep. Homes for both these neighborhoods are designed to be likable, affordable, well-constructed and adaptable.
Currently, Park West is working to expand upon its selection of well-appointed homes and amenity-rich living. There are over 15 new homes available to preview already, and even more will be coming soon in the months ahead. Buyers that are interested in some of the homes here can purchase a move-in ready home or select a lot/home package. Home packages start in the low $300s in Park West, with homes built exclusively by our builders, Legacy Homes by Bill Clark, Mungo Homes and True Homes.
Not far from Park West lies the neighborhood of Egret Cove. Egret Cove focuses on a charming, coastal cottage style of architecture which has become very desirable. This neighborhood has over 10 homes that you can plan to visit in the coming months, with much more on the way! With wonderful floorplans from renowned builders like Logan Homes, Kent Homes and Legacy Homes by Bill Clark, Egret Cove is quickly becoming a Brunswick Forest favorite. All three options of buying, including lots, land/home packages and move-in ready homes are all available to those interested here. Prices start in the high $300s and homesites begin in the $80s range in Egret Cove. Having to worry about constant upkeep is irrelevant, because in Egret Cove, lawn care comes included with your home.
Park West and Egret Cove have so much to offer. View homes inside Park West and Egret Cove by browsing digitally via Brunswick Forest's Spring Homes Showcase or their YouTube Homes To Tour playlist. Contact Brunswick Forest's real estate team at 855.983.9579 for more details!