One More for The Season: September's Coastal Showcase Weekend
September 4, 2020
ISWebmaster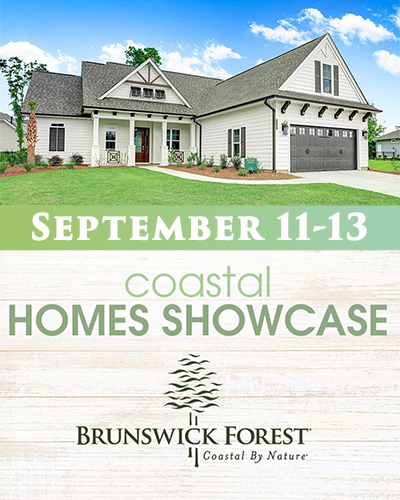 While Brunswick Forest normally has several "sales event weekends," this year the real estate team has focused on doing smaller events called Coastal Showcase Weekends. And they have been a major hit so far! For the past three months, Brunswick Forest has become a real Southern living vacation destination for dozens of aspiring homeowners.
Part of visiting a master-planned community is the excitement of getting to be a part of a larger family of residents. By visiting or touring, you are essentially experiencing what life is like from a resident's perspective. The events combine a warm welcome, personalized home tours and perfectly sized activities to take up your time. You might find yourself making new friends, finding a neighborhood that catches your eye, or even finding the new home that you have always dreamed of ever since your retirement. It is one thing to read about or see pictures of a community, but to travel there and live a weekend as if you were a resident is something spectacular. This is especially true when you get to hear stories of the actual people who live there.
Rise and shine! It is time to get your weekend in paradise off to a great start! The official showcase of homes will open at 9am, and guests can continue touring all the way until 5pm. Do not forget to bring your passport and follow along with the Showcase of Homes booklet. From 11:30am to 1:30pm honored guests will get to enjoy a satisfying lunch hosted by one of Brunswick Forest's most well-known building partner, Logan Homes. The home you will be eating in is the impressive Banyan floor plan, full of tropical aesthetic and luxurious features. They are excited to meet you and answer any questions you might have about your desired dream home. Premier builder True Homes will be holding a special welcome reception ceremony complete with a wine tasting courtesy of Bridgewater Wines, catering from Charcuterie served by Chef Scott Euvrard, and live music by local guitarist Monica Jane. It's everything you need for your September weekend to be as sweet as can be.
Saturday, September 12th:
Once again, the Coastal Homes Showcase will officially open at 9am and remain open for tours all the way until 5pm. A second builder lunch will be held by Kent Homes at the Shelter Bay model in The Lakes neighborhood. This will start at 11:30 am and continue up until 1:30pm, and it's a perfect way to get you ready for the other activities to come. What's paradise without a cool tropical drink in your hand? Be sure to catch Brunswick Forest's cocktail hour in the welcome center hosted by Legacy Homes by Bill Clark. It will be the talk of the community, featuring sizzling grilled appetizers from Chef Scott. It promises to be more than just a great evening, it will be the biggest weekend crescendo this side of the Cape Fear River.
Round out the weekend by taking one last tour of all the homes that Brunswick Forest has to offer. The real estate team will have a cooler handy, filled with drinks and tasty snacks that are great on the go. It will give you the energy to get in those final tours to find your dream home.
Immerse yourself in all the green space and wide-open areas that Brunswick Forest has to offer with daily activities. This includes a pickleball session, a tour on the legendary Cape Fear River alongside downtown Wilmington, self-guided bicycle tours, and even a golf session at Cape Fear National. You can even bring back the atmosphere of the Antebellum South with a lovely horse drawn carriage ride throughout the historic streets of Wilmington. Each guest can participate in a choice of two activities for the weekend. As a final treat, you can turn in your signed off tour passport at the end for a special gift from Brunswick Forest to you. This will be the last showcase weekend for the summer, and it is not one to be missed. If you have more questions be sure to contact the team at: 855.983.9579