Start HOP-ing Back into Fun: Pickleball at Brunswick Forest is Back in Full Swing
June 24, 2020
ISWebmaster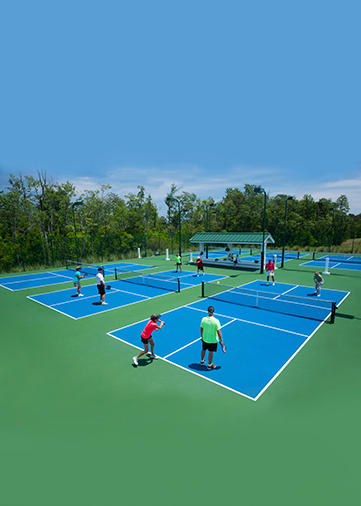 Though circumstances in recent months have been quite a change from our usual lifestyles, that has not stopped residents from enjoying outdoor activities in Wilmington's wonderfully mild weather. But now that things have returned to a new sense of the word "normal," we are beginning to see some old favorites get back into the swing of things. Pickleball fans rejoice, because Brunswick Forest's own outdoor courts are back open for play. The House of Pickleball is also opening back up for some indoor pickleball fun!
Pickleball has been the subject of much debate in terms of how the activity truly originated. Some enthusiasts claim that it was named so because it was a "pickling" of different elements of other sports like tennis and badminton. Others claim that it was named after the creator's dog. But regardless of how it was born, few can deny how pickleball has enthralled so many new players to the game. It has come to the point where many of the best master-planned communities have built amenities around it.
Brunswick Forest is one such community that has become quite caught up in the fun of pickleball. With several outdoor courts opening back up, it is a perfect time to make good use of the excellent weather. You can find these courts over by the Fitness and Wellness Center and over by the Cape Fear National club house. In fact, Brunswick Forest has once again been chosen for Ideal-LIVING magazine's best pickleball and tennis communities for 2020.
But if you are looking for a change of pace and want to play inside a climate-controlled environment, the House of Pickleball has also recently opened its doors back up to enthusiasts! With rubber floors and six indoor courts to choose from, you can still enjoy a round with friends and neighbors. There's also plentiful indoor lighting and even a pro shop to help even the most greenhorn pickleball player gets equipped properly!
The HOP, as locals commonly call this location, has become a beloved icon of Brunswick Forest's active lifestyle. Residents who have recently moved to the area have even gone as far to claim that playing pickleball here helped them make more friends than they could count. HOP is making sure that they are keeping the areas clean during this time, ensuring that you can engage in lots of fun without worrying about health concerns. The HOP is located just on the outskirts of The Villages Town Center, so grabbing a bite or making an appointment after a game is super convenient as well. The HOP has become such a central icon for pickleball enthusiasts that it has even been featured in publications such as Our State Magazine.
If you have been itching to dust off that paddle and get back into some great physical activities, now would be a good time for you to do so! From novice to expert, plenty of different players can find great fun in playing pickleball. It is one of the several activities that can currently be engaged in safely within national guidelines pertaining to social distancing. Pick up a paddle and grab some gear, because pickleball is a great way to get active at Brunswick Forest.