Bridgewater Wines
January 17, 2020
ISWebmaster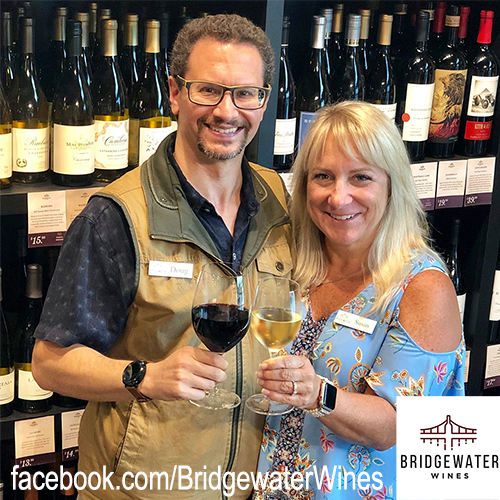 When it comes to indulging in fine adult beverages, there are plenty of options around the Wilmington and Leland areas. The Villages Town Center has plenty of restaurants, such as The Joyce , Pizzetta's and Shuckin' Shack, that offer many an option for drinks. Even the Lowes Foods has The Beer Den inside the store, where you have access to plenty of craft brews on tap while you shop! What if you're looking for something a little bit more eclectic? Because of the centralized location here at Brunswick Forest, you don't need to travel very far for a good drink in a great atmosphere.
Only a few minutes down the street from Brunswick Forest lies Bridgewater Wines. Located near the Walmart Super Center and Cross Creek Commons in Leland, Bridgewater Wines is the connoisseur's place to spend some quality time. Owned by Doug and Susan Zucker, the goal of their establishment is for customers to experience the best the world has to offer, "one wine at a time." Here, visitors will find wines from several corners of the globe, crafted in many different styles, satisfying even the most specific of tastes.
One of the best ways to feel like you're experiencing another culture is through their food and drink. The wine selection at Bridgewater Wines covers everything from German Riesling, French red wines to sparkling varieties! There's plenty of wine here to expand your palette's portfolio. Italy, Germany, France, California, Spain, Argentina and Australia are just some of the countries covered on the shelves over at Bridgewater Wines.
Most exciting of all is the wine bar that you will find inside the shop. If you're not sure what sort of wine you would like to purchase, you can purchase a few glasses and decide from there! White Wines, Red Wines and Sparkling Wines are all offered at Bridgewater Wines' bar. You can choose to purchase either full-size glasses of the wine featured at the bar or decide on a flight of different types of wine. Either way, if you love wine, you will not be disappointed by the variety offered here. Of course, you can't enjoy a good wine without a little something to chew on! Bridgewater Wines also offers delicious meat and cheese platters to go with your wine sampling. You'll find a variety of sharp cheddars, smoked gouda and blue cheeses as well as salty prosciutto, spicy capicola and even chorizo. The staff will help you with recommendations on which treat goes best with a wine! Small bites, sweet deserts, flatbreads and salads are offered at the wine bar, making each trip to Bridgewater Wines an amazing taste sensation.
If you feel that wine is your special passion, then Bridgewater Wines needs to be on your next stop for the new year. Between the cozy atmosphere, kind staff and variety of product, you'll truly feel like you've been around the world without having to leave home! If you're wondering what it's like to experience all the best wineries, brewhouses and restaurants in the greater Wilmington area, then be sure to contact the team at Brunswick Forest at: 855.983.9579 and see how they can set you up with a Coastal Discovery Tour!