Summer at Brunswick Forest: Everything to Love About Outdoor Living Space
August 24, 2020
ISWebmaster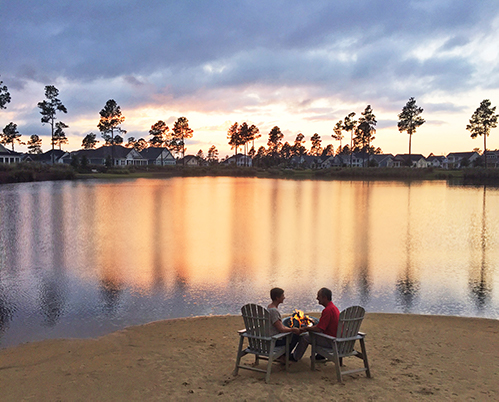 One of the best ways to appreciate living in an area with year-round mild temperatures is to spend time outdoors. Southeastern North Carolina and the greater Wilmington area has attracted thousands of visitors over the years for this reason alone. One thing is certain, Brunswick Forest is a master-planned community that is geared towards you making the most of your summer season outside. From community parks to backyard patios and fire pits, there is plenty of outdoor space for you to enjoy.
Brunswick Forest is beloved by many residents for its wide-open spaces, and abundance of natural settings. Forests, lakes, and parks are great places to spend your day in the Southern sun. Green space is one of the most desired aspects of community living, as it is beneficial to both body and mind.
Most floor plans come equipped as move-in ready homes with luxury accommodations geared towards outdoor enjoyment. Screened in porches, loggias and lanais are very popular in all neighborhoods. They allow you and your guests to enjoy time outside without the worry of any bugs. Some homes come equipped with fans for further air circulation and some screened porches are so large that they allow room for an additional hearth for cooler winter months. Fire pits and chimeneas can be a great addition to your patio or yard. It's hard to beat a Carolina evening outside, overlooking gorgeous nature, golf, and water views with a crackling fire to warm up the ambience.
Who does not like a nice opportunity to fire up the grill during a summer's evening? Brunswick Forest does, and that is why a lot of the homes they offer prospective homeowners include concrete patios perfect for a grilling area. Brunswick Forest has plenty of homes you can tour with attractive and practical accommodations for all of your needs.
Looking to make Brunswick Forest your permanent summer paradise? Contact the real estate team at: 855.983.9579, come on down for the next Coastal Showcase Weekend coming up in September and tour these homes yourself. You can also check out more home touring resources and videos on Brunswick Forest's Facebook page.