Wide Open: Brunswick Forest has an Abundance of Space!
May 8, 2020
ISWebmaster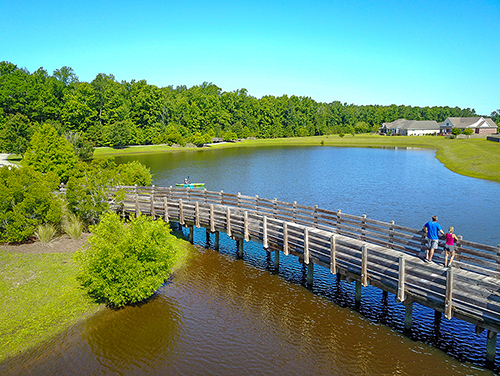 The area of Southeastern North Carolina is one of the most desirable places to move to, and there is plenty of space to go around! Be it spending some time on a championship golf course, or the nearly 100 miles of walking and biking trails, there is a lot to do inside our community. If you are ready to leave behind your large, crowded metropolitan city, you will breathe easy when you discover Brunswick Forest.
While many big city areas and their surrounding suburbs closely resemble a can of sardines, this is not so for Wilmington and the surrounding area. Brunswick County and Leland have grown extensively over the years just as Wilmington has, but its charm remains. Large open plains, tall pine forests, wooded trails and of course several nearby beaches depict our Coastal By Nature® lifestyle. And at the center of it all, is Brunswick Forest. The community map here covers 4,500 acres of lush areas including several gorgeous water features to enjoy. Several of Brunswick Forest's amenities are tailor made for you to live an active lifestyle outdoors. This includes nearly 100 miles of walking and biking trails, a championship 18-hole golf course, a kayaking launch at nearby Town Creek and several parks.
Brunswick Forest has been masterfully planned to allow our residents to have easy access to other amenities, like the nearby Villages Town Center. While some master-planned communities make residents feel closed off, Brunswick Forest yearns to give you the tools to set yourself free. Head over to Annsdale Park for a game of cornhole, enjoy planting in the community garden space or even find a place to walk your canine companion. If you are living in Brunswick Forest, there is always a place to explore around every corner.
From beaches to boardwalks, there is a whole lot out here for you to enjoy. Brunswick Forest is calling you home. Will you answer? If you are looking to see how you can move into a spacious Southern lifestyle, contact the Brunswick Forest real estate team at 855.983.9579. Plan your visit in the coming months and experience it all first hand with the Coastal Discovery Tour. You can also choose to browse model homes digitally via Brunswick Forest's Spring Homes Showcase or our YouTube Homes To Tour playlist.