Heat Up Your August: Coastal Showcase Weekends Continue
August 7, 2020
ISWebmaster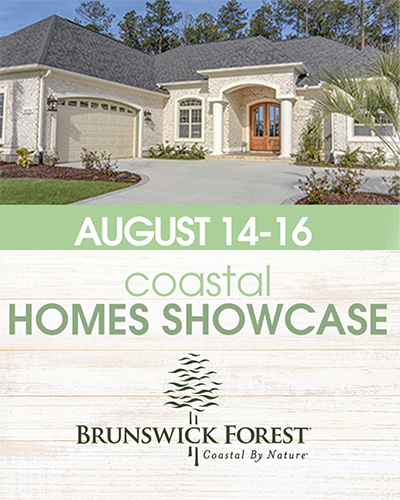 While many Wilmington locals will be soaking up the sun in a variety of outdoor areas, Brunswick Forest will continue to host its highly successful Coastal Showcase Weekends. Following safe and secure guidelines put forth by the state of North Carolina, this will be a fantastic opportunity for any potential residents looking to tour homes and get a taste of the Coastal by Nature lifestyle.
One major selling point and driver to visit master-planned communities is the excitement of getting to be a part of a larger family of residents. A warm welcome, personalized home tours and fun activities are sure to make your visit to Brunswick Forest memorable. The Coastal Showcase Weekends are like another version of Brunswick Forest's Coastal Discovery Tour. In many ways they are like a private vacation. From building partner luncheons to pickleball lessons, you are sure to find your place at the August Coastal Showcase Weekend. Here is the itinerary regarding the upcoming Coastal Showcase Weekend for August.
Over 30 magnificent model homes will be available to tour starting at 9am and lasting until 5pm. Explore these homes with your Showcase of Homes book and speak to builder representatives in their models. Enjoy your own little tour through paradise, and do not forget to have your "Brunswick Passport" ready to check off at each model you visit! It is a great way for you to get in front of builders, keep track of the neighborhoods you visit, and receive a gift at the end of the weekend for turning it in. From 11am to 1pm, honored guests will get to stop in for a fantastic lunch hosted by one of Brunswick Forest's most well-known building partners, Legacy Homes by Bill Clark. Enjoy lunch in the Cypress II in the Park West neighborhood, then swing by the Poplar II right down the street for dessert. A builder representative will be ready to answer any questions you might have about your potential dream home. The Brunswick Forest team will also be holding a special "Wine Down" welcome reception later in the day from 4-5:30pm, complete with a wine tasting (courtesy of Bridgewater Wines), Charcuterie by Chef Scott Euvrard, and live music by local guitarist Wes Hunter. Friday's evening activities will be held courtesy of Brunswick Forest's building partner Kent Homes.
Once again, the Coastal Showcase will be open to tour between 9am and 5pm. Another lunch will be held by Liberty Homes in their absolutely stunning Palmetto II floorplan from 11am-1pm. Enjoy the beautiful home, waterfront view, and learn about the builder. Looking to make your weekend evening truly special? Then buckle down and get ready for Brunswick Forest's signature cocktail hour hosted by Mungo Homes! There will be music, tasty treats served hot off the grill by Chef Scott, and refreshing cocktails.
Final tours will be taking place on Sunday to round out an overall great weekend. Beverages and snacks will be laid out for visitors to take with them as they take one last look around Brunswick Forest.
During your stay, take advantage of one these four great activities to explore the greater Wilmington area! Immerse yourself in one of the best natural areas that Wilmington has to offer, Airlie Gardens. Take a trip on the Cape Fear River and view downtown Wilmington from a unique perspective with a Wilmington Water Tours. Tee times for two at Cape Fear National Championship course and your own pickleball lesson at the indoor courts at house of Pickleball will also be available for you to choose from. Take your own path through Brunswick Forest with bike rentals available all weekend long, and enjoy the up to 100 miles of dedicated trails winding throughout the community.
Reserve your spot for our August or September Coastal Showcase Weekends today! Space is limited, and you must be registered prior to the weekend to take part in these activities. For more details, contact the team at: 855.983.9579