Touring Brunswick Forest: An Experience
April 15, 2020
ISWebmaster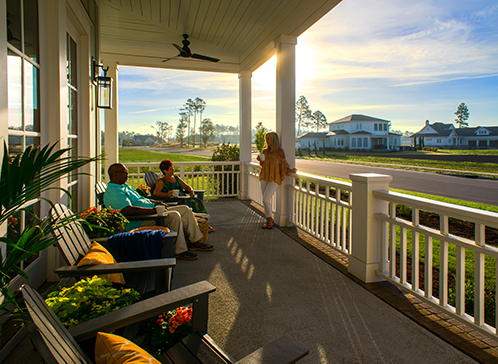 Making the decision to relocate is not one to take lightly. There's a lot of planning involved, so when you do find that special place to live, it makes the process worthwhile. Between being in one of the most desirable areas in the Southeast, having unmatched amenities and lifestyle choices, and having a helpful team that goes above and beyond, touring Brunswick Forest is more than just a great time; it's an experience that's second to none.
Does touring at Brunswick Forest sound like something you'd like to plan for the months ahead? There's no better time to get started!
Since its establishment, the master-planned community of Brunswick Forest has welcomed thousands of new North Carolinians into its neighborhoods. Through their many experiences, the residents here have found new passions, active routines, and lifelong friends. It all starts with booking your first tour and visiting one of the many knowledgeable agents at the Brunswick Forest Welcome Center.
Though times might be different right now, there are still plenty of convenient ways for you to get a taste of the touring experience at Brunswick Forest. You can safely research and view videos of beautiful model homes that an agent would show you at home! This gives you a lot to look forward to when planning your tour date in the months to come. You can also view Brunswick Forest's interactive, digital community album, which acts like a tour introduction. It has information about our neighborhoods, amenities, residents and much more!
Visits to Brunswick Forest can be done through either your own volition, or through one of Brunswick Forest's Coastal Discovery Tours. Brunswick Forest works to be flexible around schedules that are easy for you. In this fashion, planning your tour can be done months in advance of when you intend to visit.
If you're working with a broker on searching for a dream home, then they might already have the perfect agent in mind for you; Brunswick Forest is well-known throughout the broker community and has connections with several agencies.
When choosing to utilize our Coastal Discovery Tour, the Brunswick Forest team will personally chauffeur you in one of their courtesy vehicles. You'll be cruising in style and comfort as you are taken through all the major neighborhoods, such as Shelmore, Banyan Bay, Egret Cove, Park West and The Lakes. Each neighborhood has its own unique style of homes, and a different aesthetic. Are you looking for the West Indies style of The Lakes, the Florida resort style in Banyan Bay or low maintenance in the Park Side Townhomes? Maybe you're looking to peek at some of Brunswick Forest's most exclusive homes in Cape Fear National, overlooking a championship golf course.
Your agent will guide you through any homes you may have a particular interest in, get your opinion on what lifestyle elements are most important to you, and how a specific property can best match what you're looking for. The agents will also take you by new sections of each neighborhood, so you can see the latest areas under development and the properties that are planned for each. This way if you're looking to purchase a lot ahead of time, you can get a good idea of what to expect before building your dream home later. During your tour, expect to also experience some of Brunswick Forest's many amenities including: the Health and Wellness Center, Saltwater pool areas, tennis and pickleball courts and the Villages Town Center.
The touring experience at Brunswick Forest is not one of pressure, surprises or string attached. Visitors who staying via the Coastal Discovery Tour will also be given ample free time to explore some of the local area, like the beaches and historic downtown Wilmington.
For more home viewing content, be sure to visit the Brunswick Forest Facebook page.
For more information, contact Brunswick Forest at: 855.983.9579.