The Number One Living Amenity: Walking and Biking Trails
November 18, 2019
ISWebmaster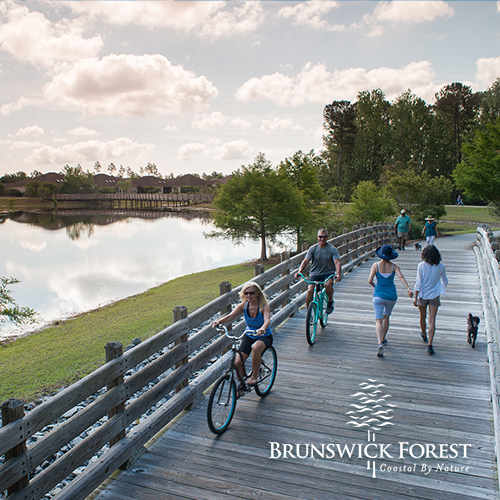 Nature is a wonderful thing, and down here in Southeastern North Carolina, we have a ton of natural environments to enjoy. Residents at Brunswick Forest have easy access to several different natural settings, including several white sand beaches, parks, river walks and nature trails. The weather here in the greater Wilmington area makes it easy to have fun outdoors. With average temperature of over sixty degrees, residents can make use of these recreational areas year-round. While traveling around looking for a new adventure is great, Brunswick Forest makes it easy to enjoy an active and nature-filled lifestyle without even having to leave the neighborhood.
Master-planned communities can be found all over the country on both the East and West coasts. Each area has a different style of living, but few come close to the sheer volume of amenities that Brunswick Forest offers. With no less than eleven amenities, there's always something fun to enjoy nearby each neighborhood. Residents who attend community shows, such as ideal-Living, know that there's a lot of choices involved with finding the perfect place to retire. The community amenities that are offered can play a big part in making that choice. Pools, tennis courts and golfing are all great activities that can help enhance your active lifestyle. But among all the rest, one has been found to consistently stand out as the most important for aspiring residents. The number one most desirable amenity to have in a master-planned community is walking and biking trails! Results from planned community experts like, ideal-Living magazine and NewHomeSource cite outdoor recreational areas being chosen as the biggest attraction.
Keeping an active lifestyle is important, and sometimes there are days where you just don't feel like programming the treadmill. That's where access to miles of walking and biking trails becomes ideal. Walking and biking trails provides residents the opportunity to enjoy where they live while staying healthy. Fresh air is good for the body, and Brunswick Forest gives its residents access to some of the finest walking paths in the area. There is no other master-planned community in the greater Wilmington area that has a network of trails like Brunswick Forest does. Each sidewalk and boardwalk have been carefully planned to give you space to walk, ride a bike and connect you to the other amenities located in Brunswick Forest. The Villages, Cape Fear National Golf Course, Fitness and Wellness Center and the Community Commons are all easily accessible from the trails. Prominent community features such as Annsdale Park and the 4,500-acre reserve are also within easy reach.
Whether you choose to ride your bike a couple of miles or have a furry four-legged companion that needs daily exercise, Brunswick Forest offers you plenty of designated trails to stretch your legs!