Brunswick Forest: Voted a Top Pickleball and Tennis Community Once Again!
July 10, 2020
ISWebmaster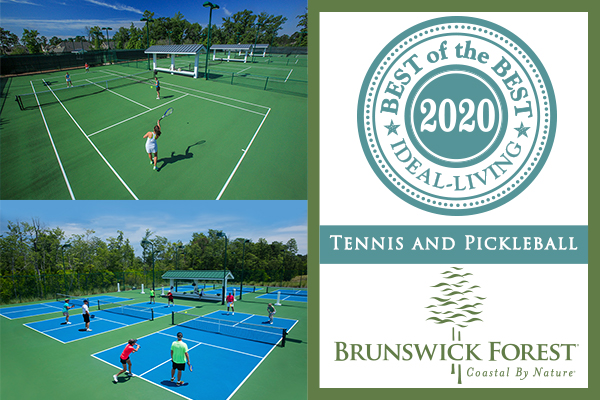 Brunswick Forest is filled with a variety of luxury amenities that facilitate your active lifestyle. For thousands of residents in Southeastern North Carolina, Brunswick Forest is the master-planned community that continues to stand out as a winner time after time. For anyone looking to enjoy pickleball and tennis, Brunswick Forest is head and shoulders above the competition.
A great master-planned community provides its residents with plenty to do and open space to enjoy it in. Brunswick Forest has become quite the blue-ribbon example for master-planned communities looking to drive people to the beaches near Wilmington, North Carolina. Among the most popular amenities that Brunswick Forest residents enjoy include tennis and pickleball.
ideal-LIVING Magazine is one of the top master-planned community databases in the country, and are the host of many real estate awards. Only the cream of the crop can make their Best of the Best lists. Brunswick Forest has continually won several awards with ideal-LIVING for years and has no intention of breaking that streak! This includes making their short list of the top 50 best master planned communities in the entire country in 2011, 2015, 2016, 2017 and 2019. Now Brunswick Forest has just been nominated once again, this time for being a top community for pickleball and tennis for the summer of 2020!
Brunswick Forest has no less than 12 outdoor hard-top courts for you to enjoy over by the Fitness and Wellness Center, and that includes both tennis and pickleball. There are also several more outdoor courts over by the Cape Fear National clubhouse. If you are itching to unleash your inner pickleball champion, there is also an incredible option for indoor play over at the House of Pickleball in The Villages Town Center. One of the few facilities of its type in North Carolina, the HOP has six indoor courts with rubberized floors, climate control and even a rental shop to get your gear. So many residents and visitors have praised the HOP for being the Mecca of pickleball, that it has been featured in Our State Magazine too!
With the summer season in full effect, it is a perfect time to see why Brunswick Forest is considered among the best communities for these activities. See for yourself why Brunswick Forest has been voted amongst the best with ideal-LIVING more than once!