The Villages Town Center: All Your Necessities in One Place
August 17, 2021
ISWebmaster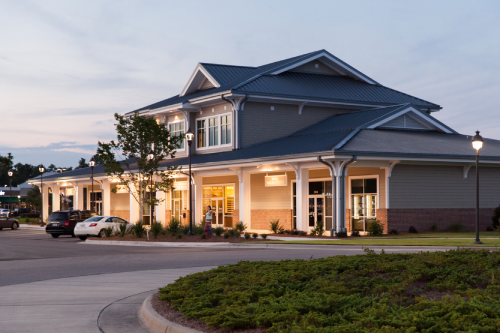 Driving long distances to run errands or re-stock your household can be inconvenient. Brunswick Forest is designed for your ideal lifestyle, that's why our team was adamant in creating a 160-acre town center that provides all the essentials. This way, our residents never have to travel outside the community to buy groceries, get a new treat for their dog, or take guests out to dinner. They don't even have to drive. The Villages Town Center is fully accessible by walking or bicycle. If you live in Brunswick Forest, making that appointment or reservation is no problem!
Here's a quick rundown of all the conveniences you have with The Villages Town Center:
Restaurants and Cafes:
The Villages Town Center has plenty of places to dine in, take out, and enjoy something delicious. The Joyce is a fantastic Irish pub serving up hearty fare like Steak and Guinness Pie, Fish and Chips, as well as a variety of sandwiches too. It's also a great place to enjoy a drink at the end of the day, with no less than 27 different beers on draft. Shuckin' Shack has their Leland location here at The Villages, with an endless option of shrimp, fish, fresh oysters, and some of the most creative sea-inspired cocktails. Farmhouse Kitchen takes fresh to a whole new level, cooking up a host of breakfast and lunch options from pancakes to burgers. They make everything right in the house and do so with a welcoming atmosphere. Pizzetta's is all about Italian/Sicilian kitchen comfort, with several pies and recipes that will satisfy you completely. Pizzetta's does everything from scratch, so the food you taste coming out of the kitchen feels like mama made it just for you.
Medical Care:
One of the greatest comforts is knowing you have options for quality medical care that's close to home. The Villages at Brunswick Forest has several medical care facilities that are on par with any major location found in greater Wilmington. At 40,000 square feet, New Hanover Regional Medical Center's satellite office in Leland has everything you could want in a modern-equipped facility. There is a wealth of outpatient resources, diagnostic capabilities, and personnel at this location. In addition, this building has easy ways to transport you to even larger facilities if need be.
EmergeOrtho is one of the top orthopedic caregivers in North Carolina, and the facility here in The Villages is one of the best. They offer a complete range of orthopedic care including upper extremities, foot, ankle, neck, and back. You can also have procedures done for joint and hip replacements. Coastal Integrative Health also provides superior care with professional and friendly staff. The team at Coastal Integrative Health helps you optimize your body's performance by offering deep tissue massage, laser therapy, chiropractic services, spinal decompression, and nutritional counseling. For all the golfer's out there, you can even use their golf performance tests to help you improve your game! And if you're looking for a place to preserve your dazzling smile, there are no better options than Cherubini Orthodontics and Blue Wave Dentistry. Both locations offer comfortable places to help straighten or whiten your teeth.
Easy Financial Management Options:
Banking and financial assistance are very big advantages to have nearby no matter where you live. The Villages Town Center has both options available to Brunswick Forest residents. BB&T has decades of making banking easy, safe, and accessible in the Carolinas. The location in the Villages allows any resident to come on by, take care of their financial needs and be on their way quickly. For personal financial assistance services, the good folks at Berry Financial can assist you with investments, retirement, or future planning.
The Villages Town Center at Brunswick Forest has what you need for a good life all in one location. Its sheer size, scale, and variety of services make its unique location in Brunswick County. Here are some more businesses located here for whatever your daily needs may be: