Our State Magazine Features The House of Pickleball
March 27, 2020
ISWebmaster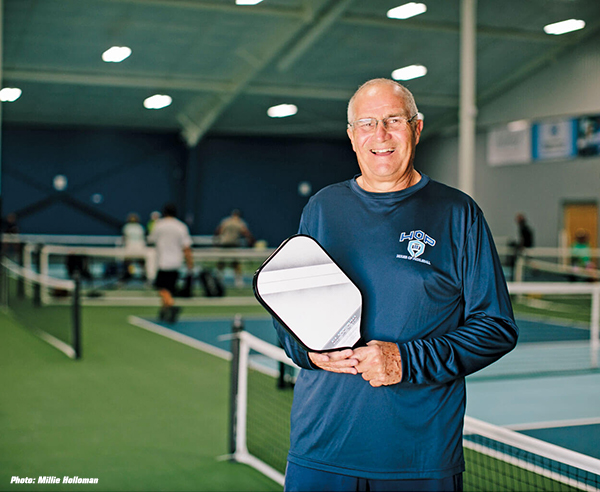 You might be very familiar with the sport of tennis. You've seen how it goes; two players, one on each side of a court hitting a ball back and forth until someone scores. It's a game that encourages agility, speed and reaction time that keeps people invested until the end. But what you may not know is that pickleball is a new activity that's just as healthy and fun. In fact, the Leland area has become one of the hotspots for this game that's sweeping the nation. So much that our very own House of Pickleball was recently featured in Our State magazine.
Brunswick Forest is not like other master-planned communities you may have seen. Unlike most, Brunswick Forest focuses on giving its residents room to enjoy an active lifestyle, and the amenities to make that possible. Pickleball is one of the 10 major amenities here at Brunswick Forest, where there are up to 10 hard top courts that people can play on at any given time.
What is pickleball exactly? It's a sport that combines the elements of badminton, tennis and table tennis together in the same fun and challenging game. Take all that and you've got a pretty good mental image of what pickleball is like. The real appeal for pickleball enthusiasts is that the game is fun for all skill levels and is easy to get into regardless if you're new to the game or have been playing games like tennis for years. It's not about power, it's about finesse. And it's that general mass appeal that makes pickleball such an enjoyable activity. These are just a few of the details that Our State magazine highlights in their feature.
The House of Pickleball, or HOP as the locals know it, is part of the Villages Town Center at Brunswick Forest. And its unique indoor environment makes it one of the only facilities of its type in the area. As Wilmington has been called the self-proclaimed "pickleball capital of the South," Our State magazine felt it fitting to dedicate an entire article to it. More specifically, highlighting how the HOP has allowed many newcomers to the area to meet new friends and find themselves a new healthy outlet. The article goes into detail about how people from all ages are getting into pickleball and how the HOP offers a one of a kind experience to people looking to rent a court or two. Brunswick Forest resident and HOP co-founder Richard Holloman is seen as the de facto "mayor" of the local pickleball scene, and often helps players to learn the game and have fun. The article also highlights how Leland and the surrounding areas has helped to foster a pickleball loving audience through a lot of master-planned communities, such as Brunswick Forest. You'll find local teachers playing against their students, friends having fun alongside neighbors and other crowds just having a fantastic time.
Our State magazine quotes Holloman as saying, "Pickleball is so much different than tennis. In tennis, people are more intense. Most pickleball players enjoy helping each other improve." Pickleball is a true gathering point, where people come together as strangers and leave as lifelong friends. Brunswick Forest provides you with the tools you need to take your active lifestyle and friendships to the next level. You can find the full article feature right here.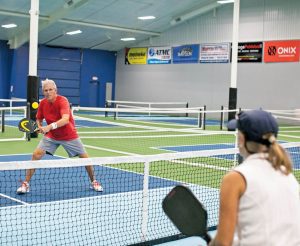 Photo: Millie Holloman