AA Storage at The Villages at Brunswick Forest
January 29, 2020
ISWebmaster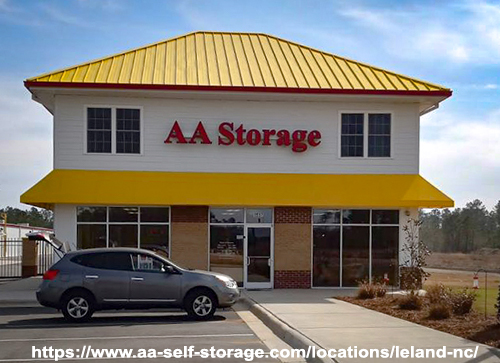 Moving to a new state, new neighborhood or community can be quite the journey depending on where you live. It can be a daunting process that's filled with a lot of elements to think about. At Brunswick Forest, our amenities and convenient location offer a much more seamless experience. You might be thinking to yourself: "I've found the community that's right for me, but where do I put all my stuff, when I begin my move?" The Villages Town Center at Brunswick Forest has just the thing to help you out.
With our prime real estate here in Southeastern North Carolina, Brunswick County, Wilmington and the surrounding areas are quickly becoming the top spots for retirement or the next chapter of your life. Brunswick Forest has an excellent team that will help you along every step of the moving process. Our very own town center, the Villages, also has a way to make your transition easier. AA Storage is a fantastic way to store just about anything you need, right here within our master-planned community.
AA Storage offers our residents an expansive indoor space that's both clean, climate-controlled and secure. Best of all, if you ever need to retrieve your stored items, their facility is literally right down the road from many of our neighborhoods. Need ample space for a boat or an RV? AA storage has a fully paved area, covered parking to protect your vehicle, a convenient dump station, fully fenced property and 24-hour digital surveillance for extra security. You even get a secure gate access complete with your own code! It's the perfect spot to hold your recreational machine until you're ready to get out and use them to enjoy the local area.
Packing supplies are also offered at AA Storage, ensuring that your belongings will be packed tightly and securely. These helpful supplies include wardrobe boxes, packing boxes, pad locks, dust covers, bubble wrap and tons more! AA's customer service members are also available to give you any advice you need on how to pack the proper way.
Climate-controlled environments ensure that more precious materials, such as antiques, aren't susceptible to mold or other blemishes that could compromise them. Non-climate-controlled storage units are also available. Each unit at AA Storage is also fit to withstand the elements no matter what time of year it is, so you can have confidence that you'll always have what you need in a pristine state.
For potential residents looking to move to Brunswick Forest, you can have peace of mind, knowing your stored furniture and other items will be kept safe and sound. More importantly, you'll have comfort knowing your belongings are just down the street at the Villages. There's over 45,000 square-feet of storage space right in your backyard, be sure to take advantage of AA and all they have to offer!
Hours:
9am – 6pm Monday through Friday
8am – 2pm on Saturdays
Closed on Sundays
Want to learn more about what other convenient amenities and areas that Brunswick Forest has to offer you? Contact the team at: 855.983.9579