Family Dog Naturals Keeps Your Dog Active
November 24, 2020
ISWebmaster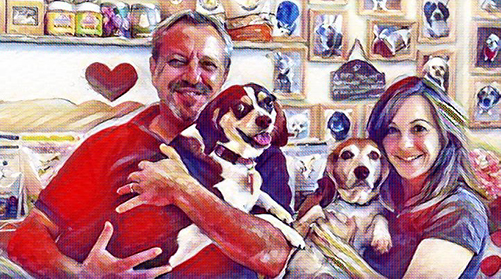 What can you say about dogs that everyone does not know already? They are loyal, funny, intelligent, fuzzy, and have been beloved companions for generations. Fortunately for residents at Brunswick Forest, Family Dog Naturals has everything you need to keep your pooches happy and healthy in The Villages Town Center!
Betsy and David Head, when creating their local business, had only one thing in mind; to provide dogs with better resources, food, and treats from natural ingredients. Most of what you would find in a pet store is made with efficiency and cost in mind. However, like humans, dogs do a lot better when they get organic materials and sustenance.
Family Dog Naturals has become a trusted name in the community thanks to their stocking of several natural products. Betsy has worked in the animal wellness business for over 16 years, and her husband David knows what makes good customer service stand out. With their combined experiences, Family Dog Naturals knows that your furry family member deserves the best and urge you to not settle for anything less.
Here is a quick rundown on some of their natural products that will help keep your pet in good shape:
Raw Food:
Raw diets have become increasingly popular for dog owners looking to give their companion all-natural meals. The concept behind having a raw diet is that your dog is eating all-natural proteins, very much mimicking the kind of food they would find in the wild. More flavor without all the added preservatives is the name of the game here. Family Dog Natural stocks raw food from brands like Bravo, Primal, and Stella and Chewy's.
Wet Food and Dry Kibble:
Just because they are not part of the raw diet trend, does not mean that kibble and wet food cannot be organic and good for your dog's nutritional values. Many of these items come with special recipes from natural ingredients and will help power your canine companion through the day. Brands like Verus, FirstMate, Nutro, and Taste of the Wild are all great low-cost options if you want to have something obtainable but not lacking in quality.
Supplements and Vitamins:
Supplements add a little boost to our daily routines so we can remain healthy throughout the day. The same concept applies to your dog as well! Family Dog Naturals supplies plenty of top-rated supplements for achieving overall wellness. You will find several different types of vitamins here, which help support your dog's immune system, joint health, skin and coat health, and digestive well-being.
Treats:
Every dog deserves a special treat here and there to enjoy life a bit more. And you will not find a place better than Family Dog Naturals to keep your shelves stocked at home. They carry dry treats, soft treats, crunchy treats, and several types of natural buffalo bones and hide-free chews. Your dog will love the way it tastes, and you will have peace of mind that there are no preservatives involved. Family Dog Naturals even supplies dog-approved frozen yogurt for those warmer days down South.
It does not matter if you are walking, biking, or enjoying the bark park, Brunswick Forest has a paradise that your dog can enjoy alongside you. Having a place like Family Dog Naturals nearby is more than convenient, it is a benefit to your dog's way of life. Make sure to stop by and visit Betsy and Dave in The Villages Town Center!