Looking for Quality AND Quantity? Our Coastal Lifestyle Is Right for You!
February 24, 2021
ISWebmaster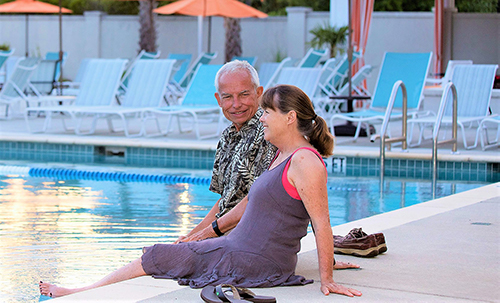 For the team here at Brunswick Forest, our laid-back lifestyle by the coast is not just a selling point, for us, it is a legitimate way to improve the lives of residents. The greater Wilmington area of North Carolina has been popular with retirees and other prospective homeowners for years. The reasons for this are simple and include a combination of different factors to create the ideal forever destination.
Location:
Over the years in many blogs and publications, we have made a big deal about the concept of "location," when it comes to our community. What does that mean? It means aspiring residents who want to move to our area do not worry about inconvenience in their daily routines. When you want to maximize your day, the last thing you want to do is spend time commuting. Brunswick Forest is in a central location not far away from 7 different beaches, downtown Wilmington, Fort Fisher, Bald Head Island, shopping and dining, health services, and even an International Airport. If you want to make the most of your golden years, Brunswick Forest is the master-planned community to do it.
A Wealth of Amenities and Other Options:
Because of our ideal location, Brunswick Forest residents do not have to travel long distances to supply their homes, find a bite to eat or make it to their medical appointments. The Villages Town Center is a massive area that contains several different places to eat, manage finances, shop, and keep yourself fit. EmergeOrtho and New Hanover Regional Medical Center both have top-of-the-line satellite facilities at The Villages. Lowes Foods provides grocery shopping options that are mere minutes from your front door. You will find superb dining options in The Villages as well. The Joyce, Farmhouse Kitchen, Pizzetta's, and Shuckin' Shack are all great options for dine-in and carry-out services. Berry Financial and BB&T are excellent for keeping your finances in check. You even get the option of great storage areas while you complete your move to Brunswick Forest at AA Storage.
There are seven beaches nearby for you to enjoy when warmer weather sets in, and downtown Wilmington is always a day well spent with lots of iconic shops that you will enjoy. Bald Head Island is just a small trip down to the Southport area, and it is one of the best ways for you to spend a day down South in paradise. And if you do not feel like leaving the neighborhood, then you are going to love Brunswick Forest's amenities. You can make use of Annsdale Park, the Bark Park, up to 100 miles of biking and walking trails, Hammock Lake, or the Town Creek boat launch for kayaking purposes. If you are big into golfing, you cannot get any better than enjoying a round at Cape Fear National right inside the community. Variety is the spice of life, and we have refined it to a tee.
An Ideal Climate:
What is the best part about having a lot of amenities and ideal destinations close by at your disposal, how about being able to enjoy them almost 365 days a year? Because of our year-round mild climate, Brunswick Forest residents get the pleasure of really embracing their chosen lifestyles with a lot of schedule flexibility. This allows us to further enhance the already stress-free environment that we have worked hard to cultivate for everyone looking to be a part of our family. Leland's cooler months are December, January and February which have an average high temperature of 62°F degrees. During the spring and summer, you can look forward to temperatures up to the high 80s. This way, regardless of the activity you had in mind, enjoyment is always close at hand, no matter the season.
These are just a few of the main reasons why Brunswick Forest is right for you. And if this has inspired you to look for yourself, then there is no better way to give our community a try than the Coastal Discovery Tour. For ways to learn more about Brunswick Forest visit us at brunwsickforest.com or contact us at 833-497-1001