The Gem of the Cape Fear: Bald Head Island!
October 14, 2019
ISWebmaster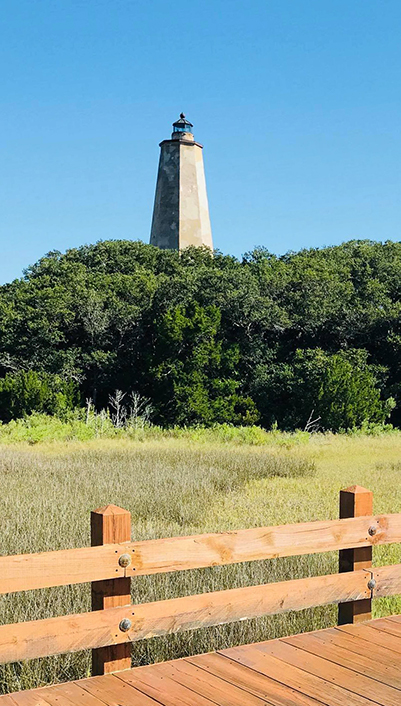 What is Bald Head Island?
The greater Wilmington area is beloved for its historic downtown waterfront, beautiful beaches and several great shopping areas. Holden Beach, Kure Beach, Wrightsville Beach and the beach at Fort Fisher are just some of the most popular tourist attractions. For those looking to spend time at an extra exclusive area, Bald Head Island is the place to visit.
Situated downriver from Wilmington and Southport, Bald Head Island is a true gem, in a crown already filled with natural treasures. Filled with wetlands, marshes, fishing holes, oak forests and quiet beaches, there's plenty to do on a trip out to Bald Head Island. If you haven't yet been to Bald Head Island, then you're missing out! Here's a helpful how-to guide to get you started.
An Exclusive Retreat Awaits You!
Bald Head Island is only reachable by ferry! The sizable ferry that travels between Southport and Bald Head Island, runs from 7am to 11pm and makes trips every half hour between the island and mainland. The helpful crew is on standby to assist in getting your luggage on and off the ferry, but your vehicle will have to stay behind in the terminal parking lot! After all, one of Bald Head Island's unique qualities is that no vehicles are allowed there. The beaches, vistas and attractions must be explored by foot, bicycle or golf cart! The ferry ride itself only takes about twenty minutes and offers you beautiful views of the Cape Fear River and surrounding areas.
How to Spend a Day at Bald Head Island!
Once you arrive on shore at Bald Head Island, it will become very apparent to you that this is more than just a barrier island. Bald Head Island is a sanctuary to all things natural, as well as a place with significant cultural history. Old Baldy is North Carolina's oldest still standing lighthouse, and dates back to 1817. The original lighthouse was even commissioned by Thomas Jefferson himself! You can travel to this standing piece of coastal history, and if you feel up to it, climb all 108 steps to the top of the lighthouse. There you can take in one of the most breathtaking panoramas available of the surrounding area. Old Baldy looks just as impressive from the outside!
The marina at Bald Head Island is filled with plenty of privately-owned vessels and offers a wealth of dining and shopping experiences. Enjoy delicious foods and beverages at establishments like Mojo's on The Harbor, Delphina Cantina, Will O' The Wisp and The Island Times Café. You can even wind down with some sweet treats at Sandpiper Ice Cream and Coffee. There's also clubs located throughout the island that are only accessible to members. This includes The Shoals Club and the Bald Head Island Club, home to some of the most private resident amenities in the area.
For those looking for a little more adventure, you can easily rent a golf cart or bicycle and explore the natural areas all over the island. Bald Head Island's beautiful beaches are open to visitors and provide great opportunities to make sandcastles, swim in the surf, search for seashells and enjoy some beach combing. South Beach, East Beach and Cape Fear Point are part of a stretch of beaches that span fourteen miles around the island. It's a perfect way to experience a true coastal paradise in Southeastern North Carolina. Kayaking and Standup Paddle boarding are also frequently enjoyed by many visitors in the nearby marshes and creeks.
By far one of the most desired experiences by many visitors to Bald Head Island, is the opportunity to play at Bald Head Island Club's beautiful Golf Course. The course is usually private and open to members only but has recently opened to limited public play. It features a well-equipped clubhouse, and some of the most beautiful holes in the Southeast. The course offers a great challenge while still immersing you in the natural beauty of the island.
Bald Head Island is one of the most desirable tourist attractions in coastal North Carolina. Brunswick Forest encourages you to take advantage of our proximity to this great location and experience a different side of coastal living.