Year-Round Mild Temperatures = Year-Round Activity at Brunswick Forest
August 28, 2019
ISWebmaster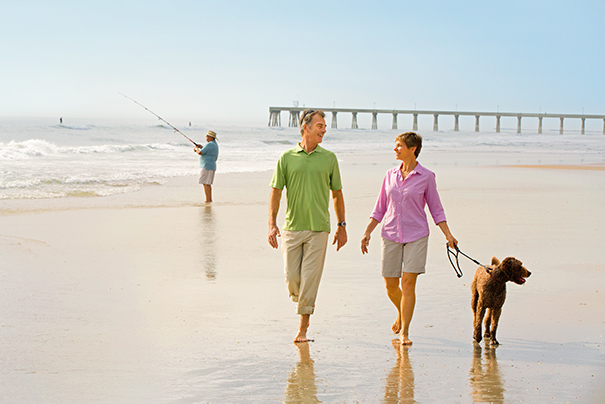 What's New in Your Local Area?
There's a lot to love about Brunswick Forest's master-planned community and the surrounding local area! Aspiring residents travel down to the Carolina coast just to experience the lifestyle that everyone has been talking about. It's a lifestyle that involves some of the best golfing in the area, two fitness centers, miles of walking and biking trails, a 160-acre town center and other world-class amenities. This is what awaits when you decide to become Coastal by Nature®!
It's All About Location!
Potential homeowners who are new to the area often find themselves asking, "Should I live by the beach or by the Cape Fear River?" There are so many great choices in the greater Wilmington area, that it's hard to choose! When residents make Brunswick Forest their home, they get the very best of both worlds! You have several white sand beaches, the Cape Fear River and historic downtown Wilmington all within minutes of your front door. Our year-round, mild temperatures are a benefit of living in the Wilmington area that you can feel for yourself!
Why Year-Round Mild Temperatures Matter
Out of the twelve months of a year, the Wilmington area has an average temperature above sixty degrees Fahrenheit! Residents at Brunswick Forest can make use of their warmer weather amenities and enjoy the outdoors for longer periods of time. There's more time for you to make the most of the active lifestyles that you desire to engage in, such as pickleball and walking on the beach. The greater Wilmington area's year-round, mild weather is highly desirable for enjoying these types of activities.
Brunswick Forest is also nestled in the heart of a natural setting, where all sorts of local wildlife and gorgeous foliage thrive in the mild climate. Aspiring residents who have a green thumb will love the more diverse gardening options available to them. There's also plenty of local events that take advantage of the mild weather year-round, such as concerts, art shows and festivals. This allows residents to experience the culture of Southeastern living to its fullest.
Living in Brunswick Forest is a pleasant experience that many aspiring homeowners have already taken advantage of. If the coastal Carolina lifestyle sounds like the kind of vibe you've been longing for, you can take advantage of our Coastal Discovery Package and see for yourself what all the buzz is about!