Dining at The Villages in Brunswick Forest
October 15, 2020
ISWebmaster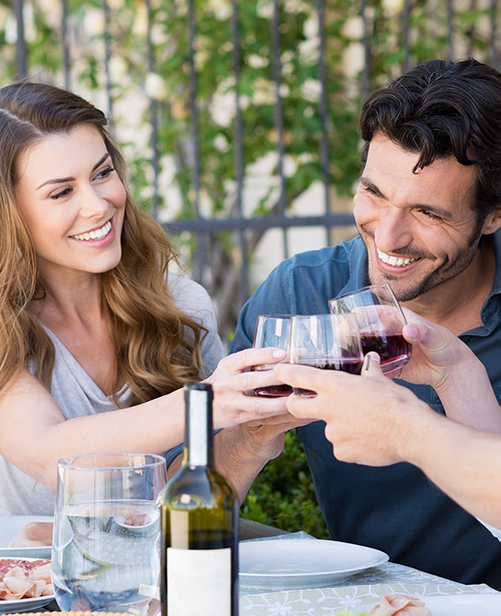 The Villages Town Center has plenty of great places to eat. After a long day at the beach, downtown Wilmington, or any activity that you choose to engage in, you can look forward to dining close to home. Though the recent pandemic has changed the way some restaurants operate, The Villages Town Center is still quite active in serving you up a delicious meal.
The Joyce has everything you need in classic pub-style experience. The atmosphere is laid back and enjoyable. Several wide-screen TVs are perfectly positioned overhead at the bar to broadcast your favorite sport. Just below are beers on tap for thirsty patrons. It's one of the largest selections for any pub in the Leland area. There's also patio seating outside for those looking to enjoy some fresh air with their meals. On some nights, you can even wind down with live music. If the comfort of a hot, homecooked meal is what you are craving, The Joyce has a seat for you! Traditional entrees include Irish favorites like Shepard's Pie, Bangers and Mash, Fish and Chips and Steak and Guinness Pie. Crisp salads are available for those looking to eat light but still feel full, and there's plenty of handheld sandwiches to enjoy too.
Having a great meal with family and friends over at Pizzetta's Pizzeria is a pizza cake. Pizzetta's focuses on quality and making traditional Italian dishes that Mama would approve of. The inside of Pizzetta's is nice and casual, with bar space also available to enjoy a beverage of your choice. The food is enough to satisfy any appetite and includes a variety of dishes like chicken parmigiana, fried calamari, mozzarella sticks, sausage and peppers, and chicken Toscana. There is plenty of pasta dishes as well, including the classics like lasagna. Stuffed shells Florentine, baked penne, and linguini with clam sauce are also available to tantalize your palate. Perhaps the biggest reason for going to Pizzetta's is the spectacular pizzas you can order! From traditional thick crust Sicilian style pizzas to being able to make your special creation, Pizzetta's pies are some of the best you will find in the area. If you're looking for something a little heavier, there's plenty to enjoy in a hot stromboli or calzone. Sandwich lovers will find a lot to love on the menu, with fresh sandwiches made to order like meatball parmigiana and the Godfather sub. All in all, Pizzetta's makes for a tasty experience with family and friends. It has a charming family atmosphere that is second to none. So, go ahead, mangia!
Seafood lovers will find their place at The Villages too! You can sink your teeth into fresh oysters and other shellfish at the Shuckin' Shack. Shuckin' Shack is the perfect place to bring the whole family to, with a nice atmosphere that caters to a more casual crowd. It is a shellfish lovers paradise, with menu items including peel and eat shrimp, clams, and some of the freshest oysters around.  For those who don't like the visceral experience of eating fresh shellfish, there are plenty of sandwiches to choose from! Po-boys, fish tacos, shrimp burgers, chicken tender sandwiches, and their famous lobster rolls are just some of the items to choose from. Looking to add a little zing to your meal? Shuckin' Shack offers some creative cocktails to enjoy, including mojitos and Moscow mules. If you're in the mood for great seafood, then you're bound to have a shuckin' good time at the Shuckin' Shack.
Rise and shine, because you can't get better than farm to table. When it comes to giving residents at Brunswick Forest a great start to their day, Farmhouse Kitchen is the place to be. We often use terminology like "farm fresh" to imply that the fare being served at your breakfast table is second to none. Serving both breakfast and lunch, The Farmhouse Kitchen is the perfect way to get yourself ready for the day! From bacon, eggs, French toast, and burgers, farm fresh is the name of the game here. Farmhouse Kitchen, like Pizzetta's is very much a family-run operation. You can enjoy favorites like eggs, bacon, Belgian waffles, pancakes, and the recommended favorite French toast. Patrons also frequently speak highly of the eggs benedict as well! Whether you're looking to start your day off on the right foot, or maybe want to have something a little heartier, The Farmhouse Kitchen is a great place to stop in. The family-friendly atmosphere and quality offerings will certainly make you into a regular customer!
Brunswick Forest makes dining an easy and enjoyable experience that is close to home.