Heating Up for the June Coastal Homes Showcase!
May 31, 2021
ISWebmaster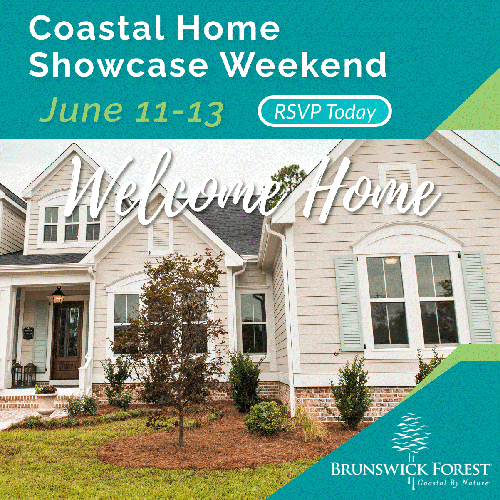 How about making time this summer to finally discover that dream home you've always wanted? Brunswick Forest's June Coastal Homes Showcase is just what you need! The real estate team here is excited for you to come visit us and experience coastal living for yourself.
Brunswick Forest has two amazing options for touring available, including our Coastal Discovery Tours and Coastal Home Showcase Weekends. While you're free to visit our community any time during the year, these two events are great ways to experience what we're all about from a resident's perspective. Our Coastal Home Showcases allows you to tour multiple homes, engage in fun activities, and enjoy lunch with our builders. The Coastal Homes Showcase for June will be taking place from the 11th through the 13th, and it's already looking to be a great time. Make sure to pack your golf clubs, sandals, and short-sleeved attire! Here's a sneak peek of the weekend itinerary:
Friday, June 11th:
Get your day started nice and early, because our Coastal Showcase Weekend will officially begin at 10 am. You will be free to explore all the homes on our showcase using the book that we provide as your guide. Explore these beautifully furnished homes and meet the representatives on site from the builders. The home touring process will continue until 4 pm.
One of our building partners, Legacy Homes by Bill Clark, will be hosting a lunch for you in the Cypress B model home! Not only will you get to enjoy some delicious food, but you will also get to ask our builder any questions you might have so far.
Friday will come to a close in a classy way with our "Wine Down" reception party sponsored by Mungo Homes and State Farm Insurance. The "Wine Down" will feature grilled appetizers from our own Chef Scott Euvrard, and our local friends from Bridgewater Wines will be offering an official wine tasting. While you're enjoying yourself, you'll be grooving to the sounds of local musician, Monica Jane. It's the perfect way to end your first day here at Brunswick Forest.
Saturday, June 12th:
Rub the sleep from those eyes, your second day in paradise has just begun! The Coastal Homes Showcase Weekend will be open again at 10 am. Fuel yourself with another round of lunches from one of our builders. This time, the lunch will be hosted by Kent Homes inside one of their award winning models. Once you've eaten your fill, you can get back to exploring the rest of what our community has to offer. Ever wanted to unleash your inner home designer? With our Design Center Drop-in, you will get the chance to learn a bit more about the options our builders can give you. Taking place from 2 pm – 3:30 pm, you'll get the exclusive opportunity to explore the Legacy Homes and True Homes design studios located right here in The Villages Town Center. Here, you'll learn a bit more about the design process, what current designs are trending in the market, and have some time to speak with the representatives there as well. While you're browsing the design centers, drinks will be on hand to keep you refreshed and engaged.
And what better way to round out a Saturday than with some happy hour beverages? This evening event will be hosted by Liberty Homes in the Palmetto II model home. Enjoy appetizers from a local restaurant, Italian Bistro, while listening to the soothing sounds of guitarist Wes Hunter. Beer and wine will also be available to enjoy along with a signature cocktail created just for this event!
Visitors will have a choice between several memorable activities to participate in all weekend long. You can cruise on the Cape Fear River with Wilmington Water Tours, play championship golf at Cape Fear National, riding in a charming horse-drawn carriage through downtown Wilmington, or visit the famous Airlie Gardens! This spectacular summer prelude is just around the corner, so be sure to RSVP with Brunswick Forest if you haven't already! You can contact us at 833-497-1001 for more information. We can't wait to see you! And if you're unable to make it, keep in mind that there will be another event held in July. And Coastal Discovery Tours are offered every day to accommodate your schedule!