Cutting-Edge Home Design Studios: Right in Your Backyard
January 28, 2021
ISWebmaster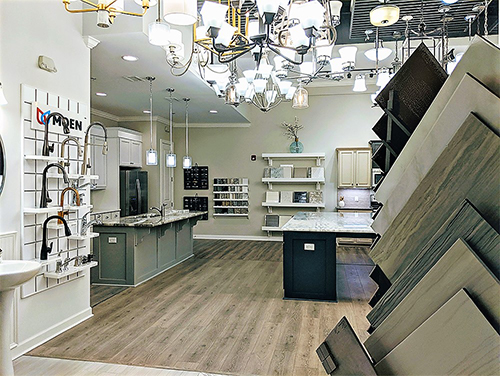 The more control you have over your home buying or designing experience, the more you will feel like, "This house was built just for me." When you choose to build or buy at Brunswick Forest, you will already have a few options down the street at The Villages Town Center.
The main stop for any aspiring homeowner, after deciding on a floor plan with a builder, is the design center. This is where the magic happens, and how you can make your home come into its own. And of course, it is important to have knowledgeable people on stand-by to help guide you and answer questions.
The Villages Town Center here in Brunswick Forest has two amazing design centers by two exceptional building partners, Legacy Homes by Bill Clark, and True Homes. Legacy Homes by Bill Clark has been in the home building business since 1977 and has stood the test of time with all their products. There is a reason that they are considered a top builder, and it is because they dedicate themselves to making a superior product with a positive buying experience. Their design center is one that keeps your lifestyle at top-of-mind, containing what you need to make a real dream home. There is a dedicated team of designers here who will take your suggestions, match up what you are looking for, and essentially making it all a reality. Designing your home should not be stressful, it should be a fun process that gets you excited for your closing. That is the approach that is taken here.
The slogan for True Homes has always been, "It's All About U." And that moniker holds over at their design studio in The Villages. Head designer Anna Brown always encourages visitors to the True Homes design center to unleash their inner guru. It is all about you thinking like a designer yourself and being creative with the materials being offered there. The True Homes design center has a wealth of interior and exterior options for you to see. Custom light fixtures, brick paneling, stoves, kitchen countertops, faucets, shower nozzles, tile backsplashes, custom cabinets, are just some of the designer touches you can add to your home. You will only find the latest home building trends reflected in the True Homes design inventory.
The best part of these design centers is that they are a part of one of the amenities of Brunswick Forest. Knowing top-class designers are just down the street makes it super convenient for homebuyers. This layout keeps everything simple and makes Brunswick Forest very special compared to other master-planned communities. Looking for more info? You can contact our team at 910.297.6776