You've Got a Friend in Brunswick Forest! We Love Brokers!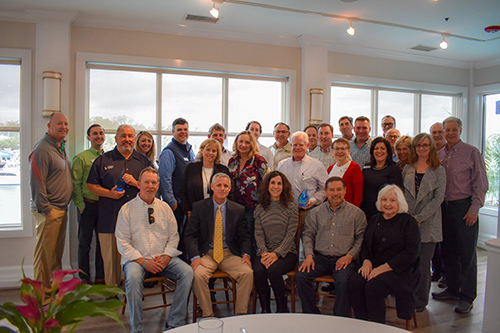 Brunswick Forest has seen a lot of major events over the past year. We've seen ourselves move past the uncertainty of the pandemic, and into a future that looks brighter than ever. Our master-planned community has not only endured but expanded as well. A lot of the continued support we've seen has come from brokers, and the real estate team at Brunswick Forest wants to let them know they are appreciated and always welcome here. Even if they have already visited us in the past, a lot has changed since last year, and we encourage them as well as other visitors to come on back and see what's new!
Since we first started back in the early 2000s, Brunswick Forest has grown into something extraordinary. Our broker friends have helped us become a beloved community that our residents are proud to live in. When aspiring homeowners visit us through a Coastal Discovery Tour or one of our Coastal Home Showcase Weekends, we treat them as honored guests. That includes the brokers that accompany them. When a broker is introduced to Brunswick Forest, we want them and their clients to fall in love with the area just as we have. Brunswick Forest works around busy schedules to ensure everything is a stress-free experience. Our team will always go the extra mile to make sure the broker and their client are well-informed about our community in all aspects. We've hosted plenty of broker appreciation events where our partners have a chance to win special prizes. All this hospitality is our way of saying, "Thank you for working with us."
Whether you're a veteran broker or a newcomer, we're excited to share what's been happening on our side of the Cape Fear River. Here's what you need to know for 2021:
The Peninsula at Cape Fear National:
A pristine new enclave is coming to the neighborhood of Cape Fear National. The Peninsula will host 94 lots wrapping around the most scenic golf, water, and nature views available on the course. This neighborhood promises to be beautiful as well as exclusive. Each lot has half an acre of land, allowing for more green space and privacy. This will be for the nature lover who wants luxurious home-building options and a tranquil setting to enjoy life on the coast. Brunswick Forest has already taken in over 30 lot reservations, so these spaces are going fast. Inside The Peninsula, brokers and their clients can expect to see homes from Bell Custom Homes, Trusst Builder Group, Logan Homes, Legacy Homes by Bill Clark, Kent Homes, Fogleman and Associates, and Liberty Homes. The architecture of The Peninsula is going to be diverse, with styles such as Coastal Cottages, Low Country Homes, Floridian Homes, and Farmhouse Homes just to name a few. If you have a client that loves the game of golf, or maybe wants to have a chance to be a part of a truly special neighborhood, then we invite all our broker friends to learn more from the Brunswick Forest team. Each home site will start at $100,000 and home packages at $400,000!
Reflections at Brunswick Forest:
One of the most exciting additions coming to our community is Reflections at Brunswick Forest. It's going to be an amenity for recreation, relaxation, and active lifestyles. There will be a saltwater pool, just like at our Fitness and Wellness Center. When completed, Reflections will be a luxurious feature that includes an indoor cardio center and even private rooms where resident-sponsored activities or other community events can be held. The cardio center will have state-of-the-art equipment like treadmills, ellipticals, step climbers, and row machines. Your clients can look forward to the pool area having outdoor sunbathing areas, a lush tropical setting, and beach-style, pool entry for easy access. Overall, Reflections is shaping up to be a real oasis, and we can't wait to share the finished product.
The Villages Town Center is Expanding:
Starting last year, The Villages Town Center in Brunswick Forest has begun the process of adding more businesses, with more facilities being planned. A new Wendy's has been opened, attracting a lot of travelers going to and from our area. Plans are in the works for an independent/assisted living center, a cidery from Wrightsville Beach Brewing, and a curling facility. Residents can look forward to more convenience close to home, and we're excited to see this area grow even further.
Whether you're an old friend or a new face, Brunswick Forest treats its broker friends like family. We encourage brokers to stop on by to learn more about what's new! Contact our Broker Liaison, Reid Myers, or any member of our real estate team at 833-497-1001 how you can connect with us.