Craftsmanship Counts: Kent Homes Feature
January 20, 2021
ISWebmaster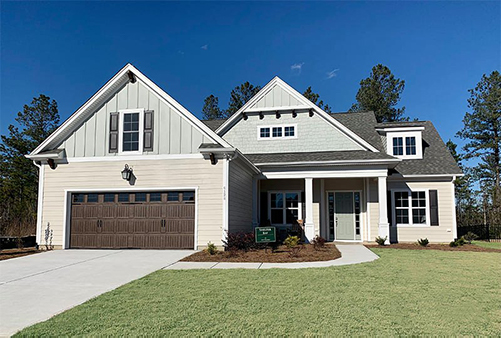 At Brunswick Forest, our team has helped thousands of aspiring homeowners find their dream residence. And we choose to only team up with the best premier builders. This includes incredible partners like Kent Homes, who has a reputation for excellence spanning over 30 years.
We know that the devil is in the details of a home, and features such as open floor plans, kitchen appliances, extra room options, and lifestyle adaptation, can all make or break a home sale for people. Established in 1989, Kent Homes has been a consistent building partner here at Brunswick Forest. And when we mean consistent, we mean that all their homes have been examples that any homeowner would be proud to live in. Their biggest advantage is putting you, the homeowner, at the center of their business model. Though they build great homes for a variety of master-planned communities, Kent Homes considers themselves more of a local company instead of a regional giant. This gives them more leeway to make each experience customized to fit you and what your goals are. With Kent Homes, you are treated with priority and attentiveness not just another number in line for a home.
For the past year, Kent Homes also has the distinction of a building partner that has gone above and beyond for us and our homeowners. Back in April of 2020 Kent Homes was awarded a Guildmaster's Award of Excellence, which is one of the most coveted building accolades you can receive. President, Ashley Kent, is always committed to upholding the company legacy of "customer first." Innovative home designs are one thing, but the real key is providing an incredible buying experience. Kent Homes is fully committed to providing both valuable qualities to any aspiring homeowners looking to work with them.
To bring about the best result for a homebuyer, Kent Homes focuses its building process around four major core tenets:
Giving more personalized attention.
Designing a home that comes together to feel better.
Build homes correctly the first time around.
Provide the most satisfying home building experience.
Kent Homes is the type of builder that puts that personal feel into all the homes they build. One of the models we've written a feature about before is Cooper's Bay.  The Shelter Bay is also another example of their work here. When visiting, you'll see more of their handiwork over in our neighborhood of The Lakes, which is one of the most premier places to live in Brunswick Forest.
Quality in homebuilding speaks for itself. When a home is put together properly, you notice it. And when a builder gives you specialized attention like they do, you will appreciate it! When you consider building or purchasing a dream home, put Kent Homes on your list. Take a virtual tour of some of their models over on our Facebook page, or contact our sales team for more information at 833-497-1001