A Reflection of Luxury: Reflections at Brunswick Forest
June 4, 2021
ISWebmaster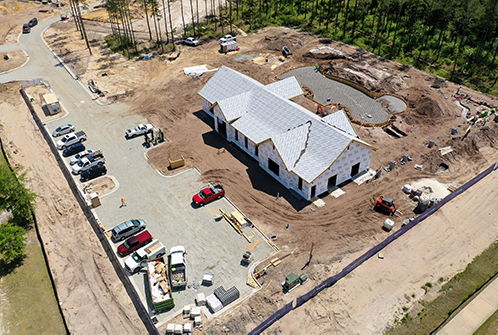 Master-planned communities distinguish themselves by way of their luxury amenities. Now, our team is proud to present our residents with a brand-new amenity! The construction process for Reflections is now well underway, and everyone is looking forward to seeing the finished product.
From golfing and pickleball to saltwater pools and our very own town center, Brunswick Forest has plenty of options to encourage an active lifestyle. Reflections at Brunswick Forest will be a place of relaxation as well as physical activity. Think of a smaller version of our fitness and wellness center. It will have its own unique identity that makes it a stand-out destination.
When Reflections is completed, it promises to be a luxurious feature in our award-winning community. For those looking to maintain their physical health, Reflections will feature a state-of-the-art cardio center for exercising that may include features such as treadmills, ellipticals, step-climbers, and row machines. If you're looking for a place to hold a resident-sponsored activity or other forms of events, there will be private rooms available too. There will be the addition of another saltwater swimming pool with beach-style access. You will also have underwater seating, lounge pad and fountains to soothe the soul. If you're looking to enjoy our area's year-round mild weather, there will also be an outdoor lounging deck with a lush tropical setting.
Construction of Reflections is multipronged with the amenity center, pool deck and amenity pool in progress simultaneously. Though there is still work to be done on Reflections, we couldn't be more excited for what is to come in the months ahead. You don't have to take our word for it, see it yourself in the progress pictures! Contact us at 833-497-1001 for more information.