What are People Like You Looking For In a New Home?
September 23, 2020
ISWebmaster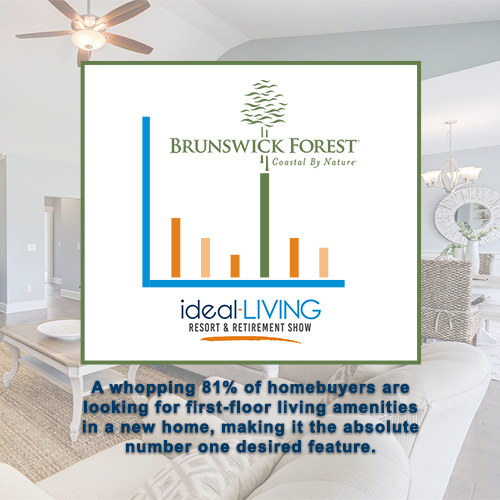 You have just finished your research, and you have a multitude of brochures and other collateral material from your last community home show. But which one should you pick, and what options are most people looking for in a new home these days? Decisions, decisions… This is your moment to choose the life and home you have been working towards for years. ideal-LIVING Magazine's latest real estate executive report for 2020 provides valuable insight into what homeowners such as yourself could be looking for.
For many years, ideal-LIVING magazine has provided thousands of homebuyers with the resources needed to live their best life possible. Categories that homebuyers can search for includes destinations, homes, builders, features, and even special awards given to communities for certain amenities (For example, Brunswick Forest has won several awards such as best pickleball and walking trail community). One of the publications' ideal-LIVING releases is their yearly real estate executive report, which includes pages of useful information using data gathered from people just like you, all over the country. The information contains details such as what kind of property investment people want most, the biggest factors for moving or keeping one from moving, the timeframe for moving, and so on. This helps others relate to one another better and perhaps further help them on their path to relocating.
Among this data is a poll of what most aspiring homebuyers are looking for in a new home. Naturally, this topic alone is broad and can be as unique as the person who is looking to buy. But ideal-LIVING has narrowed it down to a select 15 chosen items. A whopping 81% of homebuyers are looking for first-floor living amenities in a new home, making it the absolute number one desired feature. Fortunately for you, Brunswick Forest has everything covered in this area as well. Most floor plans from their featured builders are centered around single floor lifestyles, so you do not ever have to stress about getting around.
61% of people are looking for maintenance-free living options. Sometimes you just want a home that involves less time pruning and cutting the lawn, without sacrificing anything in your living style. Brunswick Forest has plenty of options for housing, like the Park Side Townhomes, which accentuates a lifestyle where you can dedicate your energy to other activities. 62% of homebuyers are looking for homes with large open kitchens. Many of the models presented at Brunswick Forest include large open living areas that open into gourmet-inspired kitchen areas. These kitchens are often lavishly equipped with some of the sleekest stainless-steel equipment you have seen and have marble or granite island countertops with tile backdrops.
59% of people are looking for modern energy-efficient homes that are easy on monthly utility bills. Another stat indicates 59% of buyers want a master bedroom suite away from the main areas of the home. Both factors are qualities that Brunswick Forest excels in. Each of their 10 building partners, such as True Homes, create their homes with efficiency in mind. Green building is a concept that isn't foreign to Brunswick Forest, be it high-performance windows, tight home construction, or efficient air ducts, it's all aimed at giving you the most comfortable life possible while reducing your carbon footprint. Many floor plan examples are built almost like miniature retreats, giving homeowners wide open living spaces with massive suites tucked away in the back. That way when it comes time to settle down, you can relax in peace with plenty of space.
Regardless of what you might be looking for in a place to call your own, Brunswick Forest wants you to know that there are options to choose from. From the first floor living to multiple car garages, you will find what you are looking for. Thousands of people looking for their dream community across the country know what they want, and now is your time to join them. For more information be sure to contact Brunswick Forest's real estate team at 855.983.9579. Don't forget the Homes to Tour Videos on Brunswick Forest's Facebook or their Homes to Tour digital flipbook.