Park Side Townhomes: Our March Feature
March 16, 2020
ISWebmaster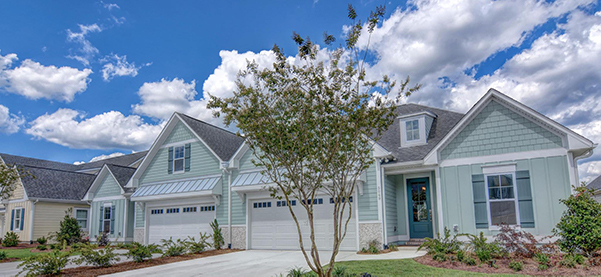 Your home should be more than just a place to live, it should be a sanctuary for living out the golden years of your life. A home should be versatile in function, attractive in design and give you options to personalize. Whether you're looking for your first home after moving down South, or looking to downsize within the community, Brunswick Forest has exactly what you need with the Park Side Townhomes.
Charm is a big part of why thousands of new residents have made the move to Southeastern North Carolina over the years. Brunswick Forest has a central location close to all the greater Wilmington area has to offer, and the Park Side Townhomes in Brunswick Forest are chock full of all the coastal charm you could want. These townhomes focus on having a coastal theme with accents that are irresistible, especially when experienced in person.
Masterfully built by one of our premier building partners, Logan Homes, the Park Side Townhomes make an attractive neighborhood in this community! These homes start out in the high $300s and are full of great interior furnishings. Logan Homes has been known for quality in the Carolinas for many years, and the Park Side Townhomes are another example of how they help you dream big while building smart. The current featured floor plan, the Seagrass I, will instantly hook you with its sleek lines and well laid-out rooms. It's an open floor plan that has plenty of space, walk-in closet, hardwood floors, a master suite with tray ceiling and a screened porch area for those lazy Southern days outside. There's a cozy atmosphere here but still has plenty of space for entertaining guests. You even have the option of a bonus room for even more interior usage. Once you walk into these homes, you'll get a sense of simplicity combined with a coastal theme. Overall, the Park Side Townhomes are a great option for people looking to live a low maintenance lifestyle.
To recap this month's feature, Park Side Townhomes are centrally located within the community so it's close by to all Brunswick Forest's other amenities. They are also low maintenance, meaning you spend more time enjoying your coastal lifestyle and less time up-keeping your property. A Park Side Townhome is the perfect choice for your move to paradise. Come take a tour of this neighborhood and let these homes speak for themselves. You can even turn your tour into a private vacation when you book with Brunswick Forest's Coastal Discovery Tour! Looking to learn a little more about the Seagrass I and the Park Side Townhomes? Contact our team: 855.983.9579