Brunswick Forest: Ideal Living for An Ideal Lifestyle
July 24, 2020
ISWebmaster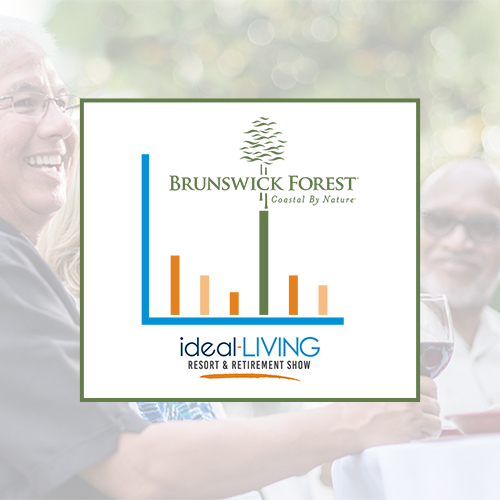 "After all those years of working, this is what life is all about. We feel like we are on vacation the whole time" says Debbie Lane, a current resident, about her life in Brunswick Forest. Many stories just like this can be found on Brunswick Forest's testimonial page. Thousands have relocated to Southeastern North Carolina and thousands more are looking to do the same, but what is driving them to move? Thanks to nationally recognized magazines like ideal-LIVING, we have the statistics to show what people, just like you, are looking for in a master-planned community like Brunswick Forest.
Brunswick Forest, located in the Tar Heel state of NC, is highly ranked amongst the states with lower taxes. This is especially true of income tax, which is levied on personal income, versus taxes that are placed on annual property value. 76% of people looking to relocate to a new community do so based on the area having a lower property tax, while 74% of people move due to a lower income tax. In fact, two of the top factors in a relocation decision include an overall lower cost of living and lower taxes. 68% of people choose where to relocate based on lower taxes and 69% move for generally lower cost of living. This is just one of the many ways Southeastern North Carolina has become especially desirable.
The numbers do not lie! Take a tour of Brunswick Forest's neighborhoods and models during their upcoming summer Coastal Showcase Weekends during August and September. You can also take a Coastal Discovery Tour or check out their Community Album digital booklet. Be sure to contact their phenomenal real estate team at: 855.983.9579
Did you know?!
Just this spring, Brunswick Forest's real state team was voted amongst the top ten for volume of homes sold in 2019 by WilmingtonBiz! Brunswick Forest reached the $104,926,584 mark in sheer real-estate volume. With an average sale of $277,217 it is one of the fastest growing planned communities in Southeastern NC.
According to a study by Bankrate, North Carolina ranked among the best states to retire. In fact, North Carolina comes in at number 6 in the nation. To compare each state, sources such as Bankrate looked at seven categories — cost of living, taxes, health care quality, weather, crime, cultural vitality, and well-being.