Going for the Gold: Brunswick Forest has Sparkling Credentials
March 4, 2020
ISWebmaster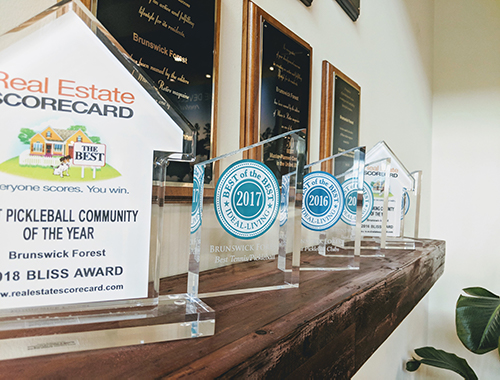 Brunswick Forest has made its presence known as one of the top-ranked master-planned communities in Southeastern North Carolina. Between our fabulous neighborhoods, 12 building partners, array of floor plan choices, amenities and ideal location, buyers from all over the country have made their way to our area. We've even won several awards in different categories to back it up!
We don't mean to toot our own horn, but we've proudly won a myriad of different awards. When aspiring residents are looking to make the big decision to relocate, they need to know that they're making the best choice possible. Brunswick Forest has made the Short List of the top 50 master-planned communities for several years, including the years of 2011, 2015, 2016, 2017 and 2019! These accolades come from major trusted names in the real estate industry such as ideal-Living Magazine, Where to Retire Magazine and the John Burns Top Master-Planned Communities. Brunswick Forest has won awards for being one of the top-selling master-planned communities by Real Estate Advisors. It has also has won best kayaking community and several additional awards in the local Parade of Homes.
Other real estate databases, such as Real Estate Scorecard, will also award master-planned communities who have shown exceptional favor in remaining a top choice in the eyes of potential residents. This award is known as the "Bliss Award" and it's one that our community of Brunswick Forest is also familiar with. In 2016 we were honored with our very own Bliss Award for being voted one of the top hiking communities in the Southeast. The accommodations made for walking trails just so happen to be one of the most requested features by people looking to move to a new location. Being a collection of neighborhoods that thrives on catering to an active lifestyle, Brunswick Forest exceeded expectations for having miles of dedicated walking and biking trails beyond what other communities offered. In 2018 we also won the Bliss Award for one of the best areas to enjoy pickleball.
And what would our trophy case be without the award we've received for Cape Fear National? Golf Week Magazine featured Cape Fear National in their top 15 courses to play in North Carolina for the year of 2017! Brunswick Forest is proud to have such a gorgeous 18-hole example of excellence right in our backyard.
Overall, Brunswick Forest is a great community that enables residents to best embrace the lifestyle choices that they choose. It's no surprise that we've consistently got the credentials to show for it, and people looking to relocate are looking to capture that lifestyle for themselves. Curious to visit our community for yourself through our incredible Coastal Discovery Tour? Feel free to contact us at: 855.983.957