Ideal Living Shows with Brian Galeucia
February 26, 2019
ISWebmaster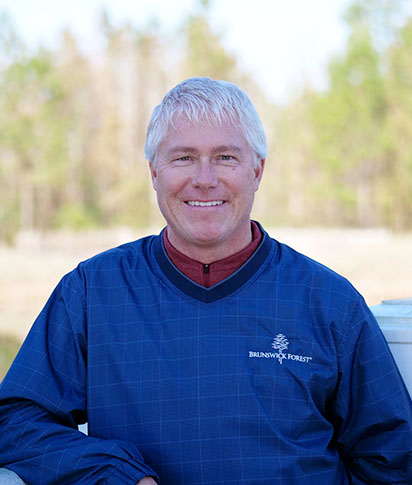 Ideal Living shows have helped countless families research and decide on where to relocate, retire and create their forever home. Brunswick Forest is an avid participant in the shows; meeting, greeting and welcoming many prospective residents to the Brunswick Forest family. We talked to agent Brian Galeucia about his experience with the Ideal Living shows and noted some important items for show attendees to consider.
Brian has been an agent with Brunswick Forest for six and a half years. He had always been in customer care roles throughout his career in Massachusetts. After falling in love with the Wilmington area, he moved to Leland from New England. Real Estate seemed to be an obvious fit for him, as he could practice his passion of helping people. Prior to joining the Brunswick Forest REALTOR team, he worked with a local real estate developer and a large real estate firm, here in Brunswick County.
Since 2008, he has attended over 24 Ideal Living shows and Where to Retire expos promoting our exceptional area. When asked what his favorite part about the shows, Brian happily explained, "meeting with new people who are interested in learning more about the quality of life in the Wilmington area and the opportunity of relocating to an attractive community. Also, getting re-acquainted with people who I had met before, and updating them on what is new in Brunswick Forest, Leland and Wilmington."
Brian is proud to say that he has helped singles, couples and families from over forty states so far. Some of those people had never been to Coastal North Carolina and didn't know anyone living in the greater Wilmington area. Those folks often share their enthusiasm with him about making the tough, but wonderful decision regarding relocating to Brunswick Forest. They have family and friends visit who absolutely love their decision as well. After moving here, they express to Brian that they have more friends and recreational interests than they ever had previously. They have improved their lifestyle with better health, relationships, lower stress and lower taxes. Not to mention, the better weather and no traffic jams!
For potential future residents of Brunswick Forest, Brian advises, "as you explore where to relocate, keep in mind, that the right house in the wrong location is the wrong house.  You want to be nearby to what is important to you and also surrounded by like-minded peers. As you plan your visit, don't focus only on the real estate. Be keenly aware of the area and you'll capture the sense of belonging in our community. The neighbors are friendly, there are a variety of activities to participate in, and there are plenty of conveniences, that all create a lifestyle that is second to none." Brian highlighted that Brunswick Forest simply attracts friendly people who want a vibrant and active life in an optimal location. Prospecting residents share with him that they are impressed with the happy residents and how easy it is to reach shopping, dining, entertainment and recreational opportunities.
Don't miss your chance to meet us at an Ideal Living show or try our Coastal Discovery Package.
Listed below is the next Ideal Living show.  COME SEE US AT THE SHOW!