The Numbers Don't Lie: Who's Making a Move? People Just Like You!
February 26, 2020
ISWebmaster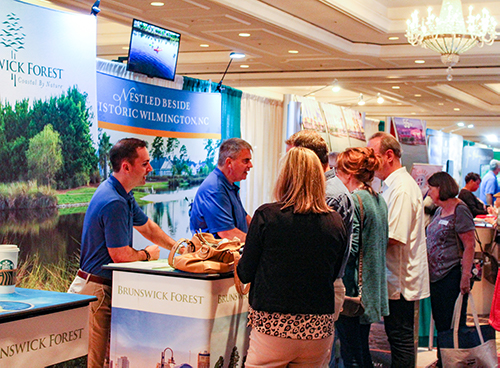 You might be thinking to yourself, "I've always wanted to live somewhere with a milder climate. I want to trade in my snow shovel for a spot on the beach. I want to change my lifestyle for the better and settle down in a place that complements who i am." To you we say, Brunswick Forest is ready to welcome you home! There are numerous opportunities to learn about your options when it comes to master-planned communities, such as the Resort and Retirement Show hosted by ideal-Living. But who exactly is making a move? You'll be surprised to see that it's a group you could have quite a lot in common with!
ideal-Living Resort and Retirement show is one of the most prolific home shows on the East coast of the United States. So far this Winter, they've held shows in New York, Illinois, Michigan, New Jersey and Connecticut. (We will be in DC this weekend 2/29-3/1!) ideal-Living has seen thousands of retirees and aspiring homeowners who are looking to make the move to their dream community.
As frequent participants in the ideal-Living home shows, the Brunswick Forest team has countless memories of meeting new faces from all over. We've especially bonded with empty nesters based in the Northeast and Midwest part of the country, as many are looking to move South in search of a milder weathered climate and escaping the burden of a higher tax level. What we've learned is that many of the folks in attendance are just like you. Some of the data gathered at the shows looks like this:
•     67% of buyers in their exploratory phase are looking for areas with easily accessible quality health care, and that this was an extremely important deciding factor in choosing where to move.
•     82% indicated that moving to a community with lower taxes was the biggest appeal to them in a buying decision.
•     85% of buyers have indicated at home shows that walking trails and a fitness center were the two most desirable amenities.
•     89% of potential home buyers who are looking to relocate are planning to take advantage of discovery travel, which is up an amazing 11% from last year! 67% of these are looking to travel and tour communities for the Spring season.
•     52% of buyers indicated that moving to a community that caters to ages 55 and up is important to them.
There are many residents who have made the move to Brunswick Forest or have visited for one of the above reasons. Brunswick Forest is located right in the middle of Southeastern North Carolina, where taxes are generally lower than communities' further north. The community is located close to several beaches, historic downtown Wilmington and Wilmington International Airport. In addition, Brunswick Forest also has a 40,000 square-foot medical facility and Orthopedic Center literally down the road from our neighborhoods. The Villages Town Center has everything you could need in terms of shopping, medical care and places to eat. We also have a fully staffed fitness center that allows you to be independent, and up to 100 miles of quality walking and bike trails.
Many people (just like you!) have already made the smartest move they've ever made to live in Brunswick Forest. Visit Brunswick Forest with our Coastal Discovery Tour or sign up for one of our Spring Property Release and Home Tour Weekends. Our team would be glad to answer any questions you might have, so feel free to contact us at: 855.983.9579