Ideal Living Shows: An Agent's Perspective
January 15, 2019
ISWebmaster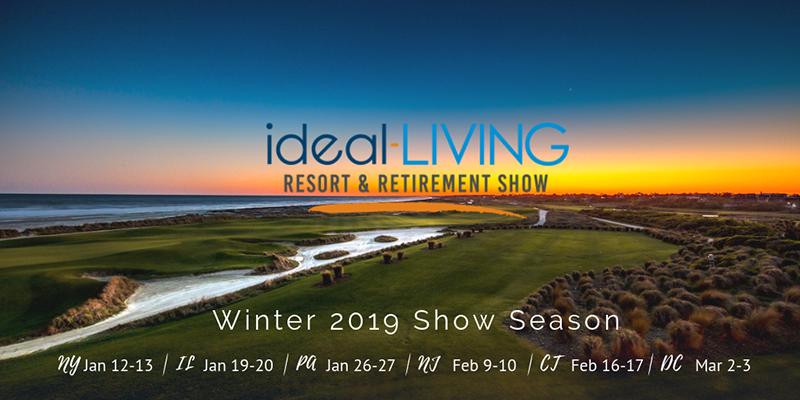 Here at Brunswick Forest, we enjoy a mild climate year-round. It's a paradise, rich with history, coastal beaches and all the shopping, dining, and cultural activities you need. There are few master-planned communities that offer as much as Brunswick Forest, in terms of giving you the relaxed yet active lifestyle that you've always wanted.  While many of our current residents have heard about us through the Ideal Living Shows, what is truly unique, is how our agents Bond with prospective residents.  Here's a collection of tales from one of Brunswick Forest's most senior Sales Executives.
Chris Dedrick is a veteran of the Brunswick Forest sales team, and has immense experience with meeting aspiring residents at Ideal Living Shows that take place all over the country.  He knows the Brunswick Forest experience inside and out and loves to educate people on what makes our community truly unique.  These real estate events are incredibly large with hundreds of participants lining up to see the top choices for living the dream life. The energy at an Ideal Living event is always high for someone like Chris, who's been to no less than 30 shows since his time at Brunswick Forest started. Dedrick states "I've been going to an average of three shows a year for the past 10 years!"  The colorful array of stories and situations that he learns from each person at the shows, never gets old.  Chris highlights that satisfying the big needs of any resident is important, but it's the little things in life that truly make the difference in what an aspiring resident is looking for.  When potential residents learn about Brunswick Forest, they often choose to book the Discovery Package and come down to experience the community's distinct brand of Southern living for themselves.  Chris is all too ready to help give aspiring residents an executive tour of the neighborhood, answering all their questions and assuring that they will gain a great understanding of the area.
As featured in our trade show blog on January 7th, current resident John Lane and his wife Deborah, were long interested in looking for a better place to retire to.  While they looked at several planned communities, not many had the amenities and lifestyle that Brunswick Forest did.  The Lanes loved the fact that the community was close to the beach and yet, was not a typical transient beach town. They learned about the multitude of options for dining available on the Wilmington River Walk.  When Chris first met Mr. and Mrs. Lane, they had a good idea of what they were looking for in a planned community.  "Though the area they were interested in at the time was still under construction, I always kept them updated with pictures and details of the property."  It was this dedication that helped the Lanes become more than just new residents, but also friends.
Chris cites that one of the most unique aspects of the Ideal Living Shows is that every family has a different plan in place for retirement.  Chicago couple Jim and Anna Oberto, first met Chris back in January of 2010.  At the time, having teenage sons who love to golf, the neighborhood of Cape Fear National truly stood out for them.  Cape Fear National had a lot of new property releases at the time and, in April, Chris showcased the more exclusive golf course neighborhoods to them.  After seeing the properties and the course at Cape Fear National, the Obertos were captivated by the area.  While golf was certainly a plus, the Obertos were looking for more than just teeing off.  Chris recalls that their son was a big fan of Wilmington native, Michael Jordan, and was looking to go to the University at Chapel Hill, just as Jordan had.  With Brunswick Forest only a few hours away, Jim and Anna were enticed and made the decision to purchase a home in May of that year. Years later, life is still sweet for this family as Chris proclaims, "Jim and Anna even bought a second, and bigger, property here at Brunswick Forest!"
Long Island resident Susan Duffy was single and only a few years from retirement when Chris had the pleasure of first meeting her at a trade show in 2011. Susan did not make her first visit to Brunswick Forest until 2016. Only recently, in February of 2018, did she become a happy homeowner in Brunswick Forest.  Meeting Susan reminded Chris of the importance in how trade shows can truly help people find the life they've always wanted. As for Susan, it was the Ideal Living show that started it all.
When asked what sort of important information he would want to share to any potential future residents of Brunswick Forest, Chris had this to say: "There are a variety of new price points being released for 2019," so there's no better time to come and experience the Brunswick Forest lifestyle! Chris notes that one of the best features about Brunswick Forest, is its location.  The community is close to Wilmington, four different beaches, the riverfront, and the airport.  Chris' favorite part about attending trade shows is meeting and making new friends who are genuinely interested in connecting and helping them learn more about our Coastal By Nature® lifestyle.
Listed below are the next trade shows.  COME SEE US AT THE SHOW!
Chicago:  https://goo.gl/BUkCgU
Philly:  https://goo.gl/D5md4n
23370
false
true
true
false
true
true
false
auto
false
ease-in-out
300
auto
false
0
true
false
%curr% of %total%