The More You Know: Fun Facts About the Wilmington Area
March 24, 2021
ISWebmaster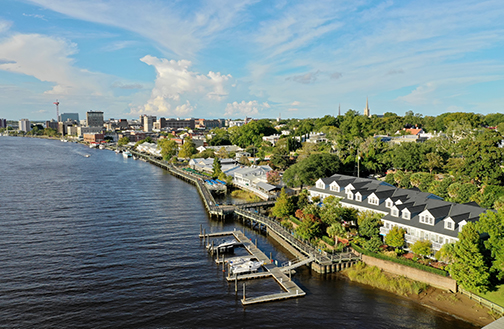 Between our seven area beaches, charming historic downtown riverfront, eclectic cuisine and rich culture, Wilmington has a lot to offer. Whether you have lived in the Wilmington area for a while, come for an annual summer vacation, or have been looking to relocate here, there are likely some fun facts you may not know about our Port City! Peek at our list below to learn more about our area.
Known for its involvement in the film industry, Wilmington has been referred to as "Wilmywood" and "Hollywood East"
Any movie lovers out there? Wilmington is known for its involvement in the film and television industry. Several popular television series filmed in Wilmington and the nearby town of Southport include Dawson's Creek, One Tree Hill and East Bound and Down. Sleepy Hallow, Iron Man 3, We're the Millers, and several Nicholas Sparks movies were filmed in Wilmington as well. Many locals have gotten their "5 minutes of fame" by volunteering to be extras in these productions. There is even a film festival held in Wilmington, known as the Cucalorus Festival, with the 27th annual festival scheduled for this November! A couple productions currently in progress including Hightown (TV Series), I.S.S., Static, and This Country. A handful of movies have recently wrapped filming as well.
Wrightsville Beach has been recognized by National Geographic as one of the Top 20 Surf Towns in the World.
Everyone knows New Hanover and Brunswick Counties are known for gorgeous beaches, and attract water-sport enthusiast from surfers, paddle boarders, kayakers and fisherman. But did you know National Geographic named Wrightsville Beach one of the Top 20 Surf Towns in the World? That's right! The article highlighted not only the "consistently above-average surf" but also applauds the town for being inviting for locals and visitors alike.
Wilmington, NC has been recognized as one of the "Top 5 Beeriest Beach Towns" by CraftBeer.com
Cheers! North Carolina is one of the fastest-growing craft beer states in the country, and Wilmington is a large contributor of that! Named by CraftBeer.com as one of the Top 5 Beeriest Beach Towns in the United States, the Wilmington area has over 20 breweries! A couple local favorites include Front Street Brewery, Wilmington Brewing Company, and Wrightsville Beach Brewery. There's even one coming soon to the Villages at Brunswick Forest, Brunswick Beer and Cider Company! Beer gardens and bottle shops are popular in Wilmington, and they are multiple beer festivals held yearly for beer enthusiasts to enjoy.
Carolina Beach State Park is one of the few places Venus Flytraps grow in the wild.
From the Arboretum to Airlie Gardens, there are a variety of places to get out in nature and enjoy the native foliage. The Wilmington area is known for the gorgeous azalea bushes that bloom with bright beautiful flowers, and a variety of coastal vegetation can be seen as well. However, at Carolina Beach State Park, one very rare plant can be found growing in the wild. The Venus Flytrap! These carnivorous plants grow within the State Park, one of the few places in the world they can be found growing in the wild.
Brunswick County is the fastest growing county in the state of North Carolina.
Whether it's due to the beautiful area beaches, being perfectly situated minutes from Wilmington, the mild weather or the lower taxes, many have chosen to make the move to Brunswick County. Currently, Brunswick County is the fastest growing county in the state of North Carolina. This growth is due to the draw of our coastal lifestyle, historic port cities of Southport and Wilmington, and rich culture the area provides. Just in 2020 alone, Brunswick Forest welcomed nearly 450 new families to the community! With this growth, many new businesses have been brought to the area. Expansion of our Villages at Brunswick Forest has added valuable businesses as well, including new restaurants, medical facilities and even an assisted living facility.
With so much to do in the Wilmington and Brunswick County area, it is no surprise so many have chosen to relocate to the area! Wondering if the Wilmington area is right for your future home? Our Coastal Discovery Package allows you to explore the area like a local and gives you an experience of what life is like here. Or contact us at 833-497-1001