Re-Open and Ready for Summer: Battleship and Airlie Gardens
July 29, 2020
ISWebmaster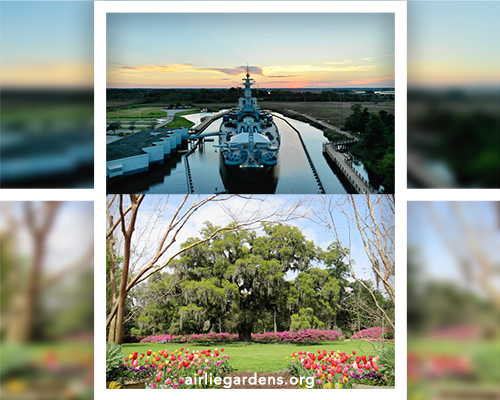 Southeastern North Carolina is known for so many beautiful and historic locations. Some of the most iconic areas, such as Bald Head Island, have captivated locals and tourists alike for many decades during Summer. But now, two of the most historically significant locations have recently re-opened to visitors in the Wilmington area. The Battleship North Carolina and Airlie Gardens are now ready for you to swing on by and take in the sights.
Moored just across from the historic waterfront of downtown Wilmington, the Battleship North Carolina is an imposing reminder of American Naval history during World War II. It is an incredible testament to the spirit of a country that defied the odds and helped bring peace to the world. The North Carolina class battleships were some of the largest vessels in their class, all of which took part in the Pacific Theatre. Armed with some of the mightiest cannons, the North Carolina spent many a mission pounding the enemy into submission. But for the sailors who were aboard her, it was their home. Guests are free to explore all nine massive decks of this great American Naval fighting machine. Explore the massive engine room that once powered the ship through the Pacific Ocean. Check out the crew bunk areas or relax in the mess decks. See what the view was like for commanding officers up on the bridge. You can even sit in the massive deck guns, bristling across the deck of this incredible vessel! Recently the battleship has opened its doors once again, and tours will be taking place throughout the ship.
There is nothing quite like viewing the natural environment on a bright Summer day, and Airlie Gardens is just the place to experience that. Known far and wide as one of the natural jewels of the Wilmington area, Airlie Gardens is used for garden parties, weddings, and other special events. Its multiple lakes, live oaks and azalea bushes have always generated an almost fantasy-like environment for over a century. Once the private property and estate of the lavish Jones family, Pembroke Jones and his wife Sarah Jones wanted an area where they could enjoy horticulture. To this day plenty of visitors and locals have enjoyed these gardens, and now it is your turn! With the gates of Airlie Gardens also re-opened, you can now return to this enchanting location. It is perfect for a picnic, tours, walking along the garden trails or even getting some pristine photographs. Whatever you have planned for your Summer, make sure you fit this local attraction into your schedule.
Brunswick Forest encourages you to get out and explore your local areas this summer, and of course maintain safe social distancing procedures. Be it the battleship, Airlie Gardens, or another destination you had in mind, you are sure to have your time well spent.