SURF'S UP AT LOCAL AREA BEACHES THIS SUMMER
July 17, 2015
Brunswick Forest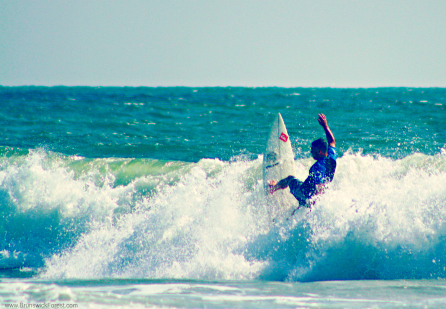 Did you know that Wilmington area beaches are well-known as premier surf spots?! Some of the country's biggest surf competitions take place right near Brunswick Forest at Wrightsville Beach. The sport is so important to the area that on October 19th the State of North Carolina will officially honor its surf history with a North Carolina Historic Highway Marker that recognizes Wrightsville Beach as the birthplace of surfing in the state.
"When people think about surf spots, they automatically think of Australia or Hawaii or even California," says Brunswick Forest Director of Sales and avid surfer, Jerry Helms. "The truth is, we have some fantastic surf spots right here on the North Carolina coast." According to Helms, some of the biggest names in the sport started out surfing the East Coast, like pro surfer, Kelly Slater, and Ben Bourgeois, who grew up surfing just a few miles away from Brunswick Forest at Wrightsville Beach. One of great things about the Wilmington area beaches, says Helms, is that the varied topography provides surfers with more options. "Because we have both east-facing and south-facing beaches here," says Helms, "there's usually always surf at one or the other."
O'NEILL/SWEETWATER PRO-AM SURF FEST
The 10th Annual O'Neill /Sweetwater Pro-Am Surf Fest is the second largest surfing contest on the East Coast and features dozens of amateur surfers and about 100 professional surfers from around the world as participants. Past professional winners include Rob Machado, Fisher Heverly, and Avon Cormican. The contest takes place July 17-19 a Birmingham Street on Wrightsville Beach and begins each day at 8 am.
O'NEILL/SWEETWATER SURF ART AND MUSIC FESTIVAL
On Saturday, July 18th, after the surf competition, head to Wrightsville Beach Park for the O'Neill/Sweetwater Surf Art & Music Festival. The festival includes surf art, reggae music, food, beverage and a raffle in which will benefit local charities. The festival runs from 5pm to 9 pm.
WRIGHTSVILLE BEACH WAHINE CLASSIC
August 15-16 head back to Wrightsville Beach to see some of the area's best female surfers compete in the Wrightsville Beach Wahine Classic. Women of all ages take part in this all-female surf event on the south end of Wrightsville Beach. For more details, visit the event web page.
SURFER'S HEALING DAY CAMPS AT WRIGHTSVILLE BEACH
Surfer's Healing is a nationwide non-profit organization that offers surf day camps to help children with autism. Each volunteer-staffed camp provides local autistic children with tandem surf rides which not only provides the kids and their families with a fun day at the beach, but also helps empower the children and challenges preconceived notions of capability.
This year Surfer's Healing will hold a day camp at Wrightsville Beach on August 17th and 18th. For more information, visit surfershealing.org.
888.371.2434
www.BrunswickForest.com