A Grill Master's Paradise: Lowes Foods at The Villages
July 21, 2020
ISWebmaster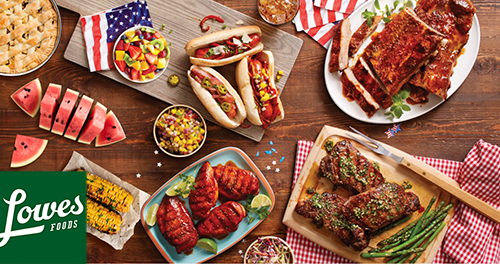 Brunswick Forest has always prided itself for being a paradise for all its residents. It is more than just great amenities and fine homes, but it is also about unbeatable convenience. What better way to live than to have everything essential nearby? If you are looking to fire up the grill this summer, there is no better place to stock up on supplies than Lowes Food in The Villages Town Center.
Lowes Foods is well known throughout the Southeast as being the go-to store for fresh local produce and groceries from local suppliers. The stores are always welcoming and filled with friendly staff ready to help you find what you need. Lowes Foods is also known for having a wide selection of products, including a fully stocked beer den for craft drinkers. But most importantly for this time of year, it is the perfect place to stock up for any of your backyard grilling sessions! And the massive location at The Villages Town Center is no exception to this standard. Best of all, it is right down the street from many residents at Brunswick Forest. Fresh meats such as pork, beef and chicken are all available from the butcher's station at Lowes Foods. Lowes is also known for its "SausageWorks," where fresh links and ground sausage are created fresh in-store with a variety of recipes. Whether you want to be a little more traditional with their "Godfather" Italian sausage or want to spice it up with the "Spicy Gonzales," you're sure to find the perfect flavor to entertain and surprise summer company.
Fresh veggies from North Carolina farms, such as peppers, corn, potatoes, carrots, and more are at your grilling disposal. And do not forget, during the entire summer season, Lowes Foods is holding their "Choptober" event! Basically, this is where you can pick up fresh produce for whatever you need, and the staff at Lowes Foods will have everything prepped for you and ready to go. It is a little more convenience so you can concentrate on firing up the grill and becoming the king (or queen) of the backyard.
There is a famous saying in the barbeque world that "the sauce is the boss." Everyone knows that good sauce can make the difference in a good barbeque and an outstanding one. Lowes Foods at The Villages has you covered in this department as well. Well-known sauces like Sweet Baby Ray's, Stubbs and your classic A1 sauce are all available for your basting needs.
Whatever you need to become a grill master, Lowes Food and The Villages at Brunswick Forest are here to make things easy. So, why wait any longer. Head on down the street Lowes Foods today and get ready for your next big cookout endeavor! If you're looking to keep up on all the latest information about The Villages Town Center, be sure to follow the Facebook page if you haven't already.