What Are People Like You Looking for in a Master Planned Community?
August 5, 2020
ISWebmaster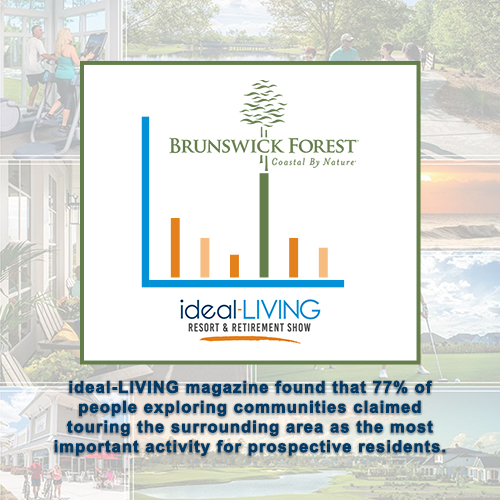 When you live in Southeastern North Carolina, there are plenty of pristine beaches and historically significant locations that provide a lot of opportunity to explore. This rings especially true for the warm and relaxing summer days that the greater Wilmington area is known for. When it comes to touring master-planned communities, here are the top three aspects that homeowners are looking for.
ideal-LIVING magazine found that 77% of people exploring communities claimed touring the surrounding area as the most important activity for prospective residents. Brunswick Forest is located just minutes from historic downtown Wilmington, Southport, Bald Head Island, and many other summer getaways. This gives its residents something to look forward to every day they wake up. Be it taking a drive, finding outside green space to walk the family dog, flying a kite over the water, or just lounging in the sun, anyone who visits Brunswick Forest will find these luxuries within arm's reach. Having something to occupy your time without putting too much thought into it gives you a better shot at living a stress-free lifestyle.
At 71%, ideal-LIVING magazine rates touring model homes as the top two activity when exploring potential communities. Brunswick Forest is home to some of the finest model homes that you will ever see in the Southeast. Choosing to partner with only choice building partners, anyone interested in Brunswick Forest will find they have plenty of options. In fact, Brunswick Forest has been holding special events this Summer, geared towards touring opportunities, called Coastal Showcase Weekends. Here, you can book a 3 day/2 night stay filled with fun activities as well as touring some of the nicest homes offered in the region. If you're interested, there are two more events like this scheduled for August and September, so RSVP while you can!
Not ready to tour in person? Brunswick Forest also has a Coastal Homes Showcase digital brochure, where you can spend time flipping through each listed home, builder, and neighborhood to see what suits you best. You can also digitally tour homes from the comfort of your own home by viewing Brunswick Forest's Homes to Tour playlist, giving you a first-person perspective at listed floor plans. This gives you a greater idea of what you want to tour in person before making any formal plans. It is as convenient as it sounds and highly popular.
Amenities, community ambassadors, model homes, design centers and clubhouse dining are all desired resources that Brunswick Forest has readily available. Our commitment to current and future residents has earned us a spot on the ideal-LIVING's Short List of Best Communities multiple years in a row, which we are so proud of. If you are looking to join in the fun, the helpful real estate team at Brunswick Forest will guide you towards the best moving choice that you have ever made. Contact us at: 855.983.9579 and see why so many people are relocating to Brunswick Forest.