Water Features of Brunswick Forest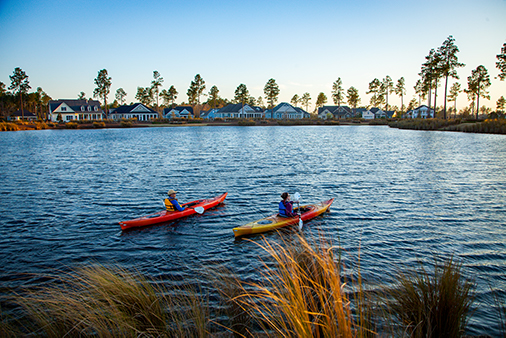 Boating, swimming, fishing, kayaking, canoeing, and paddle boarding are just some of the wonderful water activities you can enjoy at Brunswick Forest. Whether you are spending the afternoon at a nice spot on the beach by the Atlantic Ocean or quietly fishing in a tranquil pond, you cannot deny the attraction that we have to the water.  Upon visiting the Wilmington area  you'll discover a variety of fresh and saltwater locations for you to immerse yourself into.
Having plentiful green space  and water views is one of the most desired attributes of any top-rated, master-planned community. Nature is a great way to calm yourself in an environment that benefits both mind and body. Brunswick Forest is one of the few well-known communities that brings their dedication to immersing you in nature to another level. There is nearly 100 miles of walking and biking trails and numerous parks that span several acres of land and around ponds and lakes. Among the other luxury amenities that Brunswick Forest offers, perhaps none is valued quite as much as these natural areas.
Brunswick Forest, in addition to being only minutes away from several white sand beaches, has many water features of its own. Most prominent of these is Hammock Lake. While Hammock Lake has its own fitness center and saltwater pool nearby, the lake itself is home to plenty of opportunity. Kayak and canoe enthusiasts can spend their day paddling away past lush landscaping and a community beach, surrounded by the homes of various neighborhoods. Hammock Lake is a popular spot for neighbors to meet for sunset celebrations, bike rides or evening strolls, it's also very popular with our canine residents who love to loop around the lake and smell the lush greenery. Hammock Lake is also home to several water-based community events, such as the Cardboard Boat Regatta.
For those looking to explore natural marshlands and tributaries with their personal watercraft, Town Creek provides a picturesque area complete with its own river launch. You will be surrounded by ancient Bald Cypress trees, and a canopy of Spanish Moss as you have fun exploring this gorgeous area. Town Creek is quite lengthy, eventually leading out into the mighty Cape Fear River. There are plenty of watery nooks that you can explore, allowing you to truly feel like you have the whole area to yourself. White Egrets, Blue Herons and other incredible local wildlife are common sights at Town Creek.
What better way to accentuate your water features then to have a whole neighborhood based on them? The Lakes at Brunswick Forest is centered around several bodies of water that offer pristine views for nearly all of the homes built here. Cape Fear National as well as several other neighborhoods through the community offer views of the water as well features like fountains, bridges, and natural areas allowing our residents a variety of scenic choices. Brunswick Forest also boasts a fully stocked fishing pond with dock and gazebo for our resident anglers and their grandkids.
Water is so important to our local area, and the people that live here. It is a great way to unwind after a long day, provides food, sport, and other forms of recreational enjoyment. If you want a great place to enjoy the upcoming summer sunshine, Brunswick Forest is a haven for peace on the water.