Progress at The Peninsula: Exclusive Luxury at Brunswick Forest.
July 9, 2021
ISWebmaster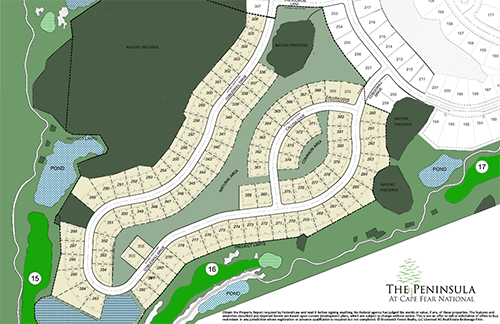 Live where you play! Tranquility, Golf and nature views, water, and large homesites will be the main features of Brunswick Forest's latest pristine development, The Peninsula at Cape Fear National. This is the pinnacle of the already exclusive Cape Fear National neighborhood, The Peninsula, brings aspiring homeowners unmatched luxury nestled around one of the best golf courses in Southeastern North Carolina.
When you think of moving down South, what usually comes to mind? We guess that mild year-round temperatures, beaches, dining, shopping, lower taxes, and historic charm are most likely in your wheelhouse! Out of all the recreational activities enjoyed in greater Wilmington, golf is one of the most popular. Getting the opportunity to live on a golf course is valued for many reasons, even if you're not a golfer. Some reasons include more privacy, lower noise levels, gorgeous views, and home value appreciation. The Peninsula at Brunswick Forest promises to take golf course living to the next level.
At only 94 available homesites in total, this release is already being reserved by plenty of prospective buyers. 30 sites have already been reserved, and the Brunswick Forest team is expecting the rest to go fast. Progress at The Peninsula has been happening at a steady pace. The land has already been cleared to make way for several brilliant areas perfect for homebuilding. Some homesites has up to half an acre of land to build upon, and with ample green space in between, you can count on each home to have a stately feel. As we've stated previously, this neighborhood will resonate deeply with homeowners who love golf, but an affinity for the game is not required to appreciate The Peninsula. If you appreciate native landscapes and having several home package options from premier builders, then this is the neighborhood for you.
Speaking of builders, you can expect brilliant work from Bell Custom Homes, Trusst Builder Group, Logan Homes, Legacy Homes by Bill Clark, Kent Homes, Fogleman and Associates, and Liberty Homes inside The Peninsula. Variety and craftsmanship will be the main themes of these homes. Coastal Cottages, Low Country Homes, Floridian Homes, and Farmhouse Homes are just some of the diverse styles you can expect to be built here. The ground reserved for The Peninsula has been broken and homesites have already begun being flagged for future construction. Our entire real estate team is excited to see all the pieces fall into place going forward.
Progress has also been achieved in drawing up a feasible neighborhood layout for The Peninsula. The entire neighborhood will be located just off three scenic holes on the back nine of Cape Fear National, hole number 15, 16, and 17.  There will be ponds for scenic water views located just along the borders of The Peninsula. You can expect to see a major natural area, which is planned to run straight through the center of the neighborhood. There will be landscaped common areas adding to the beauty of this enclave. Pristine natural areas of varying size will also dot the landscape around The Peninsula, allowing for additional privacy.
Overall, you can think of The Peninsula as being a unique oasis inside of an already excellent master-planned community. Be sure to visit our website for more information on how you can obtain a lot for yourself before they're all gone! Or contact our team at 833-497-1001