Love is In the Air: Why Your Clients Will Love Brunswick Forest!
February 14, 2020
ISWebmaster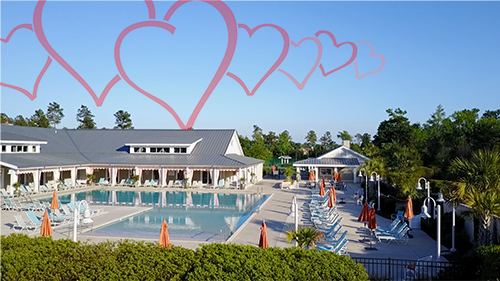 Can you feel it? It's that special time of year where we all reflect on how much we love that special someone, or something! As brokers in our coastal community, you know all too well that there's a lot to love about living in Southeastern North Carolina. There are multiple beaches, downtown Wilmington, Leland and so many other local hotspots for residents to enjoy. Because our master-planned community is right near both sides of the Cape Fear River, there's a lot to love about the convenience that Brunswick Forest can offer your clients.
First off, we are one of the top-rated communities in the Southeast with some of the best amenities around. Kayaking, championship golf, pickleball, biking and walking trails and incredible amounts of natural greenspace will make your clients fall in love at first sight! All of our amenities are conveniently located. From conditioning their bodies at the Fitness and Wellness Center to running errands and shopping at the Villages Town Center, clients who choose Brunswick Forest are never left without options to enjoy their day. Our amenities are especially catered towards living a healthful and active lifestyle, but clients who are ready to relax will also easily find serenity here. We have plenty of enjoyable resident-sponsored activities that act as great social outlets, involving interests from poker, gardening and everything in between.
The power of choice is strong no matter where you look here at Brunswick Forest, and it's because of all these options that your client will love our neighborhoods. Aspiring homeowners looking to buy, have no less than 12 preferred builders to choose from, and a variety of floor plans that can be customized to meet their specific needs. First floor living areas for easy access are no problem! Fully furnished kitchens and bathrooms are also a standard for many of the homes we offer. There are even models that will satisfy any need for extra office space. If it's variety that your client needs, they will certainly love what Brunswick Forest has to offer across several distinct neighborhoods.
You can have confidence in telling your client that Brunswick Forest is truly something special. They'll love how our community is located between very popular areas for easy convenience. There's the beach, Bald Head Island, Southport, downtown Wilmington, nearby nature parks and even close access to Wilmington International Airport. There's always something to do around every corner, and its only minutes away from your front door at Brunswick Forest.
With so many great features for your clients to explore at our community, it will be like falling in love all over again, without all the expensive chocolates and flowers. If you or your client are looking to learn more or tour Brunswick Forest, contact us at: 855.983.9579