The Men and Women's Bridge Club: Playing with a Handful of Tricks
November 13, 2019
ISWebmaster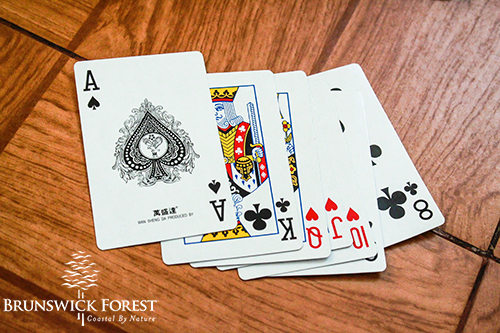 Brunswick Forest is your permanent vacation destination. You can choose from so many luxuries and amenities that there's never really a day where you're bored! Residents are able to enjoy championship golf at Cape Fear National, tone their bodies at the Fitness and Wellness Center or choose to be among nature at one of our wide open parks. Residents here at Brunswick Forest are all about bringing friends and neighbors together for a good time. Brunswick Forest also provides several areas where resident sponsored activities can take place on a regular basis! Such areas include the Fitness and Wellness Center, Hammock Lake Fitness Center and the Community Commons.
A rousing game of cards can do wonders to bring people together. One of the most classic ways to play cards is the game of Bridge. Bridge is a card game that is easy to learn but challenging to master! The challenge (and fun) lies in knowing how to bid for the right card hand, also known as a "trick" in Bridge. Someone will first distribute one card per player. The player with the highest card is dealer for that game, and cards will be divvied out until each player has thirteen cards. Each player can bid or pass on each trick, until they have bid on at least seven tricks. The main point of the game is win as many tricks as you possibly can, and the player with the most amount won, takes the game. Brunswick Forest has its own Men & Women's Bridge Club, run by resident Laurie Burrous.
If you're looking to learn the game of bridge, then this is the group for you to join. Laurie explains, "we have women, men and couples who play and we are always accepting new players. This is a social group for people who enjoy bridge and understand the game." But even if you're completely new to the game, there's still a very welcoming atmosphere. The Men & Women's Bridge Group has plenty of aspiring players who sit with the group and are welcome to watch even if they don't feel like playing. "We play on Monday's at the Community Commons from 12:30pm and finish up around 3:30pm," Laurie states. "Usually the group reserves around five tables to hold their games on. "Another woman helps me run the group, and we have been doing this for about three years. We follow some very basic rules of Bridge etiquette to make everyone feel comfortable and welcome to enjoy our game. This is an environment that's catered more towards learning the game, and less about advanced strategies."
When you live at Brunswick Forest, gravitating towards new activities and meeting new friends is all a part of the coastal lifestyle experience.